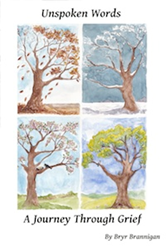 What is gained from reading 'Unspoken Words – A Journey Through Grief' is a deep sense of hope, courage and gratitude.
North Yorkshire, UK (PRWEB) June 22, 2015
'Unspoken Words – A Journey Through Grief' by Bryr Brannigan gives a very honest and open account of a remarkable young woman and, as the title states, her journey through grief. From her own personal thoughts and beautifully written poetry, Bryr details the deep sense of loss she suffered after the death of her mother, and her subsequent loss of faith, her misery, and the hopelessness and the guilt that placed her on the brink of suicide.
Though the book is written from the perspective of 'grief', Bryr tells how she learned that there is a depth to that word beyond first appearances, the book could equally be titled A Journey Through Loss, A Journey Through Depression, or umpteen other titles. This quality gives it not only the ability to address a broad range of human experience and emotion, but the ability to be appreciated by a wide range of readers.
From a literary standpoint each poem in the book is successful in its own way; the rhythm and rhyme gentle and yet powerful, even humorous at times and leaving a feeling of immense satisfaction. On a thematic level, each poem speaks powerfully as it deals with human emotions and responses to sorrow; to God's hand at work in nature; or that unbearable place of not knowing whether change for the better will come.
There are 12 poems in all. Each poem is introduced by a journal entry which helps set the background. Even though the book takes the reader on a journey through grief, they are never left feeling lost in despair. The majority of the poems give sense of an ushering in of hope, hope that in God, there is help.
The emotive writings inevitably move the reader from great depths to great heights, intense sorrow to unsurpassable joy, culminating in the final poem. Feeling completely broken and almost giving in to despair, Bryr cries out to her Maker in one last attempt for help, and He steps in, giving a wonderful and boundless love and energy in her heart. It is at this pivotal point, where her deteriorated life begins to realign. It is ultimately a true story of light breaking through at the end of a very dark night and will no doubt be a source of comfort to others going through their own trials. This powerful story provides compelling reading for those who have encountered life's adversities and at their weakest moment questioned their own faith.
What is gained from reading 'Unspoken Words – A Journey Through Grief' is a deep sense of hope, courage and gratitude.
Bryr openly professes 'my journey is my journey' and that the reader will have their own unique experiences. In the epilogue, Bryr includes some insights that she has learned along her way and it is her hope that the poems themselves along with these insights may help others along their road, that they too will be encouraged that there is hope, that there is light at the end of the tunnel.
'Unspoken Words – A Journey Through Grief' by Bryr Brannigan is available in eBook format and can be found at eBookIt.com by clicking the following link: http://www.ebookit.com/books/0000004193/Unspoken-Words---A-Journey-Through-Grief.html It can also be found at a number of other retailers such as Amazon, iTunes, Kobo, Barnes and Noble, Google Play, etc.
The author is available for questions or interviews from media contacts, and should such a person wish to access a review copy of the book, Bryr is contactable via the following:
Miss Bryr Brannigan
e. bryr(dot)brani(at)gmail(dot)com
ph. +44 7895 171 844
About Bryr Brannigan
Bryr describes herself as an Australian Adventurer. There is always more than one way to look at life and that is certainly one way to look at hers. Growing up in Australia, she took on a "She'll Be Right" and "I'll Give It A Go" type attitude, well known to the Australian people. She has lived in quite a number of locations in both Australia and England and has worked at quite a variety of jobs including carpet cleaner, shop assistant, carer, taxi driver and farmer – the list goes on, but her main passion is goat farming. Bryr attributes who she is today and what she has to offer to her faith in God, her parents and friends, and to the losses she has suffered and by the grace of God, overcome. She currently lives in a small village just outside of Harrogate, North Yorkshire, England.
About eBookIt.com
Since 2010, eBookIt.com (based in Sudbury, Massachusetts) has helped thousands of authors and publishers get their books converted to ebook format, and distributed to all the major ebook retailers, including Amazon.com, Barnesandnoble.com, Apple iBookstore, Kobo, Sony Readerstore, Ingram Digital, and Google eBookstore.