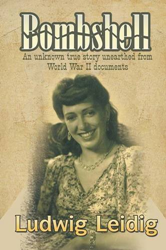 "Just when you think there is nothing new to learn about Nazi Germany, comes this spellbinding story of a brilliant businessman and his beautiful young assistant who turn Hitler on his ear. " - Robert Fletcher, CEO of Strategic Book Publishing and Rights Agency
NEW YORK (PRWEB) January 21, 2020
The events in "Bombshell" span from 1933 to 1945, the dark years of Nazi Germany's Third Reich. Although it is a true story, the book reads just like a thriller. It tells a new and untold tale: What corporate life was like in war-torn Germany.
Meet global tycoon Ludwig Roselius (The Lion), who invented decaffeinated coffee. The Lion established himself in New York before World War I, becoming the most diversified industrialist that Germany had ever seen. He fought Hitler every step of the way in Hitler's business dealings. When Hitler applied to Dr. Roselius for funding in the 1920s, he rejected Hitler as a dreamer and sent him away. This was not forgotten by Hitler. When he became der Führer, Hitler launched verbal attacks on Dr. Roselius, later sentencing him to death.
Barbara Goette began working for the German global tycoon and his HAG conglomerate when she was 26. Intelligent, glamorous, and hard-working, she became Dr. Roselius' closest collaborator. She saved the doctor's life by appealing to Hitler during a chance meeting in Berlin.
Barbara is unwittingly involved in a plot to eliminate the egotistical dictator. When it all goes wrong, her world of comfort is turned on its head. Details have been lost among the charred annals of Nazi history, along with the life stories of Barbara Goette and her protector, companion, and benefactor, Dr. Ludwig Roselius … until now. "Bombshell" is Barbara's story of the war and how she survived its final years.
"I would highly recommend the biography. I read it yesterday. Laughed, cried, and reminisced. There is a lot to learn from it." – Robyn L. Taylor
"Intellectual thriller. Great book! What an interesting perspective as never told before." – 5-star Amazon review
Watch the video book trailer at: https://youtu.be/RFf-L6cjIFw
About the Author: Born in Germany, Ludwig Leidig is retired and lives in Adelaide, Australia.
"Just when you think there is nothing new to learn about Nazi Germany, comes this spellbinding story of a brilliant businessman and his beautiful young assistant who turn Hitler on his ear. We are proud to be the publisher," said Robert Fletcher, CEO of Strategic Book Publishing and Rights Agency.
BOMBSHELL (ISBN: 978-1-62516-346-2) is now available for $19.50 and can be ordered through the publisher's website: http://sbpra.com/LudwigLeidig/ or at your favorite book seller.
WHOLESALERS: This book is distributed by Ingram Books and other wholesale distributors. Contact your representative with the ISBN for purchase. Wholesale purchase for retailers, universities, libraries, and other organizations is also available through the publisher; please email bookorder@sbpra.net.