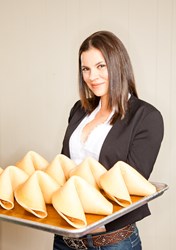 'Pursuing an unusual career takes a lot of courage and persistence and the ability to believe fame and fortune will be yours- even when no one else does.' -Daria Artem, Chief Fortune Cookie Writer, Lady Fortunes Inc.
Los Angeles, CA (PRWEB) August 31, 2013
"You do what?!" is the question Daria Artem, CEO and Founder of Lady Fortunes Inc gets asked on a regular basis. Everyone knows that doctors, lawyers and executives make good money- so when Daria Artem decided to ditch a high paying career and take a risk on pursuing her passion, it caused many of her friends and family to wonder if she was alright.
Prior to opening up Lady Fortunes Inc back in 2004 with the money she and her then fiance had set aside for their wedding, Daria had a promising career as a marketing executive. Having graduated from a Southern CA University with a triple Bachelor's degree in Business Law, Marketing and Bio Chemistry- she was on track to becoming a sure success.
But in early 2004, Daria saw an opportunity to make some serious dough - with a fortune cookie company. "I thought it would be really clever to create fortune cookies with themed messages- not just the typical good fortunes you get inside the cookies," said Daria Artem, Chief Fortune Cookie Writer. "So we started with sweet sayings for romantic occasions, Happy Birthday messages and eventually merry messages for holidays and even weight loss inspirational quotes.
Today, the company produces an extensive line of ever evolving fortune sayings for different themes and occasions. But it's the custom personalized messages that have really brought the company its "good fortune."
"We have clients calling all the time looking for clever ways to put their message in our cookies," said Carrie Dunlap, a Confectionery Consultant at LadyFortunes.com. "We forward those on to our in house fortune cookie writer Daria- and she always has a perfect way to express a message in our fortune cookies."
The company sells over a million fortune cookies every year- many of those are their personalized giant fortune cookies which are Lady Fortunes' claim to fame and fortune. Daria Artem has created many clever sayings for her smart cookies. While she encourages her customers be their own "Confucius" by writing their own fortunes, many often ask for help in writing their message.
Some of the more popular sayings (which are personalized to the sender) are:
"To my Sweetest Cookie and my Greatest Fortune- you make my heart crumble!"
"I am so "fortune"-ate to have you in my life!"
"A bundle of good fortune is in your future."
The personalized fortune cookies come in three sizes, from "classic" to "baby giant" to a "giant" that is almost the size of a football and contains a 1-ft-long fortune inside. The cookies are popular party favors, unique invitations, novel birth announcements, and are even used as marriage proposals.
In 2012, Daria Artem was a featured guest on the NBC talk show The Jeff Probst Show which highlighted her career as a Fortune Cookie Writer. Daria Artem was also featured on over 25 Ehow videos where she came out as a National Fortune Cookie Expert.
In 2014, Daria Artem will be celebrating 10 years of sweet success in her unusual job as fortune cookie writer. Today, she has proven all those who doubted her wrong in judging her chosen career path. The 34 year old entrepreneur and mother of 2 kids under 5 years old feels very "fortune"-ate to be able to pursue a successful career that gives her the freedom to enjoy her passion of creative writing- although in an unusual way.
Inspiration comes from many places: from her desk to the treadmill, Daria always carries a notebook with her to scribble down her sayings. Each year, her company LadyFortunes.com invites people from around the world to enter their Annual Fortune Cookie Writing Competition. Categories for best fortunes include: "Most Confucius," "Most Inspirational," "Most Happy," and "Most Likely To Make Someone's Heart Crumble." The fortune writers compete for prizes ranging from a free personalized giant fortune cookie to a baking mix that they can create their own fortune cookies from.
About Lady Fortunes:
Since 2004, Lady Fortunes has been a leading manufacturer of Gourmet Cookies, Confections and Gifts. Lady Fortunes' desserts have been enjoyed in the White House, at events at the Library of Congress, at the Emmy Awards®, during Oscar® after-parties, on the Ellen Degeneres Show, The Today Show, and have been featured in magazines from InStyle to Better Homes and Gardens. Lady Fortunes' products are available online and through upscale retailers including Dylan's Candy Bar, Macy's, Nordstrom, Neiman Marcus and Henri Bendel.