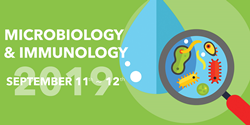 YORBA LINDA, Calif. (PRWEB) September 05, 2019
LabRoots, the leading scientific social networking website offering premier, interactive virtual events and webinars, will be hosting presentations of well-renowned experts at its free Microbiology & Immunology Virtual Event, during September 11-12, 2019.
This forum gives an organized platform for distinguished leaders in Microbiology and Immunology to present the most recent innovations, novel biology trends and techniques and practical challenges to ensure a better world. Microbiology & Immunology 2019 will convene academia and industry, biomedical scientists, virologists, healthcare professionals and top research scholars, to not only foster inspiration, but discover the key issues on a wide range of topics impacting the field today.
The two-day agenda showcases thought-provoking lectures highlighting metagenomics, microbial communities, viromes, antimicrobial resistance, new approaches to vaccines, virus-host interactions, and advances in structural virology.
Keynote speakers include, Dr. Jonathan Scheiman, Co-Founder and Chief Executive Officer at FitBiomics, exploring mining athlete microbiomes for next generation probiotics for applications in consumer health and nutrition, and Dr. John Thomas, Professor Emeritus and recognized Global Microbiologist examining microbial centric aging: a paradigm shift, and the growing awareness of microbiota in wellness and disease.
Dr. Jonathan Scheiman, Co-Founder & Chief Executive Officer of FitBiomics said, "For me personally, I came from a family of educators and anytime I am given the opportunity to present our science and potential applications outside of the research lab into the real world, it's very exciting!" "Working with LabRoots and having a dynamic platform to reach a global audience, build a community, converse with scientists within the scientific community, and to introduce our research is a valuable process and I'm thrilled to be a part of it."
The featured notable speakers span many significant areas of microbiology and immunology – earth and human management of our microbial wealth, emergency diagnostics, new methods and emerging developments, and novel insights into virology. Among them, Jonathan M. Galazka, Genelab Project Scientist at NASA Ames Research Center, will present in a three-part discussion GeneLab and recent discoveries to study the metagenomes of spacecrafts and their occupants, and how microbial communities adapt to spaceflight; and Dr. Garth Ehrlich, Professor of Microbiology & Immunology, Professor of Otolarynology-Head and Neck Surgery, at Drexel University College of Medicine will explain the development of machine learning algorithms of complex Microbiota.
"We are delighted about the level of enthusiasm we have received from speakers, sponsors and attendees for our 5th annual conference," said Tracy Salcido, Vice President of LabRoots. "We look forward to bringing substantive discussions on the key issues faced to the forefront."
The online event produced on LabRoots' robust, interactive platform allows attendees to watch, learn and connect seamlessly across all desktop and mobile devices. By participating in this event, Continuing Education credit (1 per presentation) can be earned for a maximum of 30 credits.
For more information or to register for the event, click here. Participants can follow the conversation online by using #LRmicro.
About LabRoots
LabRoots is the leading scientific social networking website, and primary source for scientific trending news and premier educational virtual events and webinars and more. Contributing to the advancement of science through content sharing capabilities, LabRoots is a powerful advocate in amplifying global networks and communities. Founded in 2008, LabRoots emphasizes digital innovation in scientific collaboration and learning. Offering more than articles and webcasts that go beyond the mundane and explore the latest discoveries in the world of science, LabRoots users can stay atop their field by gaining continuing education credits from a wide range of topics through their participation in the webinars and virtual events.