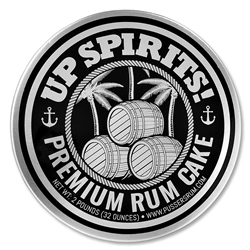 CHARLESTON, S.C. (PRWEB) November 06, 2019
For centuries, Royal Navy families have baked tasty rum cakes to honor and celebrate special occasions and now the "Up Spirits" Premium Rum Cake, featuring a generous pour of Pusser's Rum, is now available for purchase at http://pussersrum.com/cakes and Amazon. As the original rum of the Royal Navy, Pusser's Rum is an essential ingredient in this delightful dessert.
Per Royal Navy tradition, sailors aboard their ships were issued a daily ration or "tot" of rum, which came from the ship's "Purser." Sailors later coined "Purser" as "Pusser." Hence: Pusser's Rum. Pusser's Rum has been labeled by the editors of Forbes Magazine as "the single malt of rum" and named "One of the Ten Best Rums in the World."
Whether you're a rum connoisseur or a foodie with a sweet tooth, this old world recipe makes this cake fit for a queen. In fact, even the Queen of England has been known to make a traditional "Christmas Cake" with the storied spirit. The rich and robust flavor of Pusser's Rum adds a touch of classic Demerara with a warm mix of rich molasses and sweet brown sugar to this special cake.
The Up Spirits Rum Cake is a 2 pound rum cake that is packaged in a collectible tin. It is best served warm. Recommended pairings include ice cream and an additional pour over of premium British Navy Pusser's Rum; fresh cream and berries such as kiwi, strawberries, or raspberries; a sprinkle of powdered sugar and fresh fruit; or a warmed slice with a scoop of old-fashioned vanilla bean ice cream.
To learn more or to order Up Spirits Premium Rum Cake, please visit https://pussersrum.com/cakes