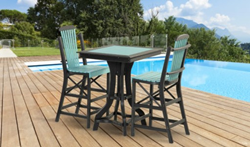 Ida and I are so very thankful for the many friends and visitors we've had over the past 30 years and we hope that many can make the trip again even if just to say hi.
SHIPSHEWANA, Ind. (PRWEB) September 13, 2019
In recognition of its 30th anniversary, Weaver Furniture Sales is offering furniture at huge savings during their 30th Anniversary Sale. The sale runs through Sept. 23, 2019 at the Weaver Furniture renovated dairy barn transformed to furniture showroom located on the south side of Shipshewana, Indiana.
All of the more than 5,000 products in Weaver's massive showroom are on sale. Savings include up to 75% off clearance items. All in-stock outdoor Poly Lumber furniture is priced at 35% off. So customers can shop early for next summer or better yet, use the outdoor furniture for the remaining weeks this summer and fall.
Weaver Furniture Sales is also offering a 20% discount on 3-Piece Living Room Sets in their showroom and a 15% discount on all store wide items which are not otherwise discounted.
With the 30th Anniversary Sale, customers who have been thinking about purchasing Amish furniture or accessories can now buy at greatly reduced prices. Consider a trip to Shipshewana and enjoy the picturesque landscape of Indiana's largest Amish community, great food, many shopping opportunities and other entertainment. The Weaver Furniture Sales Anniversary Sale and celebration ends on Monday September 23, 2019 so make your trip plans now. Owner LeRoy Weaver states "Ida and I are so very thankful for the many friends and visitors we've had over the past 30 years and we hope that many can make the trip again even if just to say hi".
Customers who visit Weaver Furniture Sales during the sale are encouraged to enter to win Weaver gift cards worth up to $500 and other prizes. Entrants must register in person and be 18 years of age or older. Also, entrants don't need to be present to win.
Weaver Furniture Sales is open daily from 9 a.m. to 5 p.m., 9 a.m. to 4 p.m. on Saturdays, and is closed on Sundays.
The 20,000-square-foot Weaver Furniture Sales furniture showroom is located 1/4 mile south and 1/4 mile east of the junction of Indiana State Road 5 and US 20 in Shipshewana, Indiana. So the store is easy to find. Customers are strongly encouraged to bring furniture transportation supplies such as blankets, tie downs and large vehicles when they visit Weaver Furniture Sales. No problem if you visit without furniture transport supplies! Weavers' offers furniture shipping supplies available for sale and has a delivery network service that clients can use.
For more information, visit Weaver Furniture Sales website. Or call 260-768-7730.
About Weaver Furniture Sales
Weaver Furniture Sales was established in 1989 in Shipshewana, Indiana. An Amish, family-owned furniture business, Weaver offers a full line of solid wood, Amish furniture at affordable prices. And Weaver caters to both residential and commercial customers. The company features Shaker, Mission and Traditional furniture styles. As part of their client services, Weaver provides furniture design consultation services, custom furniture options, furniture quotes, layaway options and various delivery alternatives for residences and businesses in the United States.
LeRoy and Ida Weaver own and operate Weaver Furniture Sales. They began with a 1,500 square foot showroom, which has been expanded to more than 20,000 square feet. Previously, they owned and managed LeWana Dairy Farm, where they milked cows and raised corn and hay.