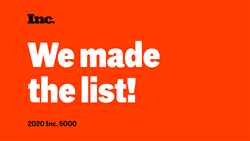 In such a difficult year for everyone, especially in the large cities where we operate, we feel extremely grateful that we are able to continue our business and collaborate with our clients. This, and the growth celebration today, give us the motivation to do our best to improve our social impact
NEW YORK (PRWEB) August 14, 2020
Year over year of hard work, client collaboration and focused innovation have led to UpClear's presence on the Inc 5000 list for seven consecutive years. UpClear is proud to be featured on the Inc 5000 list, which has become one of the most widely read and distributed lists each year, celebrating not only the competitive businesses that have achieved rank, but also the impact that these companies have on our economy. In 2020, the companies included in the Inc 5000 list have generated $209.7 billion in revenue, and created 582,670 jobs.
From our first time on this list back in 2014, to our 2020 position at 3253, UpClear looks forward to keep moving the needle and our position on that list amongst innovators and titans of American industry such as Halo Top Creamery, S'well, ZoomInfo, Intuit, Zappos, Under Armour, Microsoft, Jamba Juice, Timberland, Clif Bar, Pandora, Patagonia, Oracle, and other notable honorees and alumni. To have been ranked on the Inc 5000 list for seven years in a row is an accomplishment that only 1.5% of companies that make the Inc. list.
Achieving UpClear's seventh consecutive year is based on some core values. Our Commitment to Client Success, being Forward Thinking with Technology, and our internal and external Collaboration are key to our year over year growth. UpClear has actively maintained a startup mentality, from agile work processes, collaborative communication, and growth that is scalable. Finally, UpClear made the decision to expand globally at an early stage of the company's growth, contributing to our ability to service global clients, local expertise, and experience in deployment across every major market for consumer goods. With offices in New York, London, Paris, Hong Kong, Sydney, Tokyo, Atlanta, and Mexico City, and over 70 clients around the world, we have achieved a significant global footprint.
"It is remarkable that we have maintained that consistent growth for so many years, all the while remaining independent. I am hugely proud of our achievement. I cannot believe that it has now become a tradition every August that we celebrate our presence on Inc 5000! Thank you to our valued clients and partners that we work with every day. And big congratulations to our entire global team for making this happen! In such a difficult year for everyone, especially in the large cities where we operate, we feel extremely grateful that we are able to continue our business and collaborate with our clients. This, and celebrating our recognized growth today, give us the motivation to do more and do our best to improve our social impact," says UpClear Founder & CEO, Thierry Soudee.
About Inc. Media
Founded in 1979 and acquired in 2005 by Mansueto Ventures, Inc. is the only major brand dedicated exclusively to owners and managers of growing private companies, with the aim to deliver real solutions for today's innovative company builders. Inc. took home the National Magazine Award for General Excellence in both 2014 and 2012. The total monthly audience reach for the brand has been growing significantly, from 2,000,000 in 2010 to more than 20,000,000 today. For more information, visit http://www.inc.com. The Inc. 5000 is a list of the fastest-growing private companies in the nation. Started in 1982, this prestigious list has become the hallmark of entrepreneurial success. The Inc. 5000 Conference & Awards Ceremony is an annual event that celebrates the remarkable achievements of these companies. The event also offers informative workshops, celebrated keynote speakers, and evening functions.
About UpClear
Founded in 2007, UpClear is a global provider of Revenue Management software to Consumer Goods brands. UpClear's BluePlanner software is a best-in-class platform for Revenue Management, covering Pricing, Terms and Promotions, Integrated Business Planning and Analytics & Insight. UpClear serves clients in over 20 countries across America, Europe, and Asia from our offices in New York, London, and Hong Kong, and branches in France and Australia. Clients and brands we work with include Beyond Meat, Danone, Equal, Evian, Ferrero, Jelly Belly, Hovis, King Arthur Flour, King's Hawaiian, LALA, Lundberg Family Farms, Reckitt Benckiser, Splenda, Twinings, Vita Coco, Warburtons, and Zest. More information visit http://upclear.com