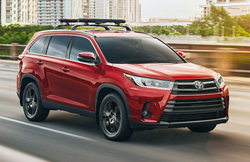 DECATUR, Ala. (PRWEB) November 15, 2019
With the end of the year approaching and the holiday season nearly in full swing, Serra Toyota of Decatur is encouraging new vehicle sales with exciting lease opportunities. From now through the end of the year, shoppers can enter affordable 36-month leases on select in-stock Toyota SUVs at the Decatur dealership.
Exciting finance opportunities are available on select 2019 and 2020 Toyota SUVs that are currently in stock at Serra Toyota of Decatur. Each 36-month lease opportunity requires qualifying credit, subject to approval through Southeast Toyota Finance, and $3,995 due at signing.
The off-road ready 2019 Toyota 4Runner SR5 – XP Package is available at the Decatur dealership for just $379 per month. Drivers looking to hop behind the wheel and hit the trails in a new adventure-ready Toyota will find that the 2019 4Runner will check all of the boxes.
Space-conscious drivers looking for a family-friendly SUV option will be excited about the lease opportunity available on select 2019 Toyota Highlander LE inventory. Qualifying lessees can enter a 36-month lease on select Highlander models for as little as $199 per month at Serra Toyota of Decatur.
The fan-favorite Toyota RAV4 has leasing incentives available to prospective shoppers in the Decatur area and the options aren't limited to just the 2019 model. Serra Toyota of Decatur is offering 36-month lease opportunities on select 2019 Toyota RAV4 LE models for $189 per month, as well as select 2020 Toyota RAV4 LE models for $249 per month.
These financing opportunities are available from now until Jan. 6. Individuals looking for more information on the financing incentives available at Serra Toyota of Decatur can visit the dealership online at https://www.toyotaofdecatur.com/ or contact the sales team by phone at 256-274-4354.