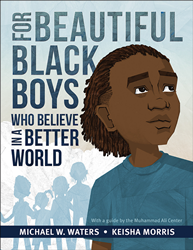 "One of the most important and timely children's books of the year." —Beto O'Rourke
LOUISVILLE, Ky. (PRWEB) August 26, 2020
Flyaway Books will release their powerful, upcoming picture book For Beautiful Black Boys Who Believe in a Better World, by author Michael W. Waters and illustrator Keisha Morris, on September 22, 2020.
The book, which celebrates African American boys and focuses on the importance of working together to create a better world, tells the story of a young boy named Jeremiah who is exposed to gun violence both personally and through the media. As Jeremiah reflects on the stories of Trayvon Martin, Michael Brown, the Charleston Nine, and other victims of gun violence, he discovers that he can help improve our world by participating in hopeful forms of activism and advocacy.
Ideal for ages 6-10, For Beautiful Black Boys Who Believe in a Better World includes a discussion and activity guide for parents and teachers to use with children. Written by the Muhammad Ali Center in Louisville, Kentucky, a multicultural center and museum committed to promoting respect, hope, and understanding, the guide explores racism, gun violence, and social change. An extended version of the guide is now available for download at http://www.flyawaybooks.com/resources. The final book will be available in a jacketed hardback format. The retail price is $18.00, and a portion of the publisher's sales proceeds will be donated to nonprofit organizations that facilitate the empowerment of Black communities.
"We are incredibly honored to be able to publish this book," said David Dobson, President and Publisher of Flyaway Books. "The moment I first read the story of young Jeremiah and how he turned his despair into action, I knew we had to publish it. The world needs more Jeremiahs to help awaken its conscience and rise up to join the struggle for racial justice."
"Muhammad Ali always focused on things that all of humanity had in common, rather than what set us apart; that a person should be judged by their character, not by the color of his or her skin," said Jeanie Kahnke, Sr. Director of Public Relations and External Affairs at the Muhammad Ali Center. "With the painful truths of racism and social injustice once again headlining our daily news, it could not be timelier to have a guide for adults to engage with their children or students at home or in the classroom in ways that could spawn new and hopeful solutions for combatting social injustices. The Ali Center is grateful for the opportunity to have developed the guide for For Beautiful Black Boys Who Believe in a Better World and is optimistic that it will serve as a guide for continual and difficult discussions that are needed to bring about positive and sustainable change."
For Beautiful Black Boys Who Believe in a Better World will be available for purchase wherever books are sold.
About Flyaway Books
Flyaway Books is a picture book program dedicated to themes of diversity, inclusivity, compassion, and kindness. For more information, visit http://www.flyawaybooks.com.
About the Muhammad Ali Center
The Muhammad Ali Center, a 501(c)3 corporation, was cofounded by Muhammad Ali and his wife Lonnie in their hometown of Louisville, Kentucky. The international cultural center promotes the Six Core Principles of Muhammad Ali (Confidence, Conviction, Dedication, Giving, Respect, and Spirituality) in ways that inspire personal and global greatness and provides programming and events around the focus areas of education, gender equity, and global citizenship. In 2020, the Ali Center became one of the newest stops on the U.S. Civil Rights Trail. The Center's headquarters also contains an award-winning museum experience. For more information, please visit http://www.alicenter.org.
About Michael W. Waters
Michael W. Waters is an award-winning author, activist, professor, and pastor. A sought-after speaker to national and international audiences, he is a frequent social commentator for major media outlets. He was named one of America's emerging leaders by Ebony magazine and has received multiple honors for his work in peace and justice. Michael W. Waters lives in Dallas, Texas. For more information, visit http://www.michaelwwaters.com.
About Keisha Morris
Keisha Morris grew up in Charlottesville, Virginia, studied illustration in New York City, and now tells stories through pictures and words in Reno, Nevada. For more information, visit http://www.keishamorris.com.
###