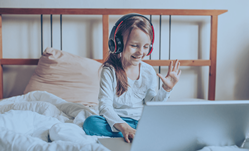 JUPITER, Fla. (PRWEB) April 14, 2021
Scheduled to broadcast 3Q/2021, the award-winning series, Advancements with Ted Danson, will educate about improvements in mathematics teaching techniques.
With a focus on Elephant Learning, viewers will see how the technology uses information to find the gaps in understanding and fill them with the most effective activities to help advance children forward to the next level. Audiences will discover how Elephant Learning uses the latest scientific research in mathematics education to empower children.
"We have brought together innovations in early age education science with advanced technological discoveries to create the most effective mathematics learning platform ever created. It is not often that advancements like this make it from the lab to the consumer effectively. We are extremely humbled and honored to be featured on Advancements with Ted Danson," said Dr. Nagrath, lead scientist and Founder of Elephant Learning.
Hearing from experts with an in-depth understanding of how mathematics should be taught, spectators will see how teaching activities at the right level can help students to accelerate at learning.
"Elephant Learning is changing the way the world teaches mathematics," said Will Mensch, producer for the Advancements series. "We look forward to exploring how the technology is helping to improve mathematics education, around the globe."
About Elephant Learning:
When using the Elephant Learning system for just 30 minutes a day, children are able to learn roughly one and a half years' worth of mathematics in the course of 10 weeks. Elephant Learning guarantees that students will learn at least one year of mathematics over the course of 3 months when they its system accordingly.
For more information, visit: http://www.elephantlearning.com.
About Advancements and DMG Productions:
The Advancements series is an information-based educational show targeting recent advances across a number of industries and economies. Featuring state-of-the-art solutions and important issues facing today's consumers and business professionals, Advancements focuses on cutting-edge developments, and brings this information to the public with the vision to enlighten about how technology and innovation continue to transform our world.
Backed by experts in various fields, DMG Productions is dedicated to education and advancement, and to consistently producing commercial-free, educational programming on which both viewers and networks depend.
For more info, please visit: http://www.Advancementstv.com or call Will Mensch at 866-496-4065.