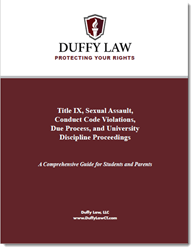 NEW HAVEN, Conn. (PRWEB) August 14, 2020
Duffy Law, LLC, a law firm in Connecticut focusing on the nationwide representation of college students, coaches, faculty and staff in Title IX matters has updated its Student and Parent Guide to sexual assault, conduct code violations, and the university disciplinary process. The Guide addresses the new regulations going into effect on August 14, 2020. Known as the "Final Rule," these U.S. Department of Education regulations significantly change the way colleges and universities are required to handle sexual harassment and sexual misconduct cases under Title IX.
According to Felice Duffy, the firm's founder, students and parents typically underestimate both the complexity of the process and the possible negative consequences of being found "responsible" for a disciplinary violation or bringing a complaint forward as a victim of misconduct. "College students understandably think that if they simply tell their side of the story that the school will treat them fairly. Unfortunately, many schools have reacted to increased federal regulatory scrutiny and generalized social pressure in response to the serious issue of campus sexual assault by implementing well-meaning but flawed disciplinary processes that create as many problems as they're trying to solve. We wrote this guide to give students and parents the information they need to make better choices before they're retraumatized by untrained school personnel, or sanctioned with severe, long-term consequences such as suspension or expulsion."
The 20-page Guide covers all phases of the common disciplinary process including investigations, hearings, findings, sanctions, and appeals. It contains information gathered on a daily basis from the firm's work representing both complainants and accused at both large and small, public and private institutions in every region of the U.S.
Attorney Felice Duffy is a pioneer in both Title IX and U.S. women's soccer. She filed a Title IX action against the University of Connecticut as an undergraduate in 1978 to compel the funding of a women's varsity soccer team. She then earned her Ph.D. in Sports Psychology while playing at the national club level. Duffy went on to become head coach of the Yale women's soccer team for 10 years before going to Quinnipiac law school, where she graduated first in her class. After stints at major New York and Connecticut law firms, she served for 10 years as an Assistant United States Attorney before opening her own firm in 2015.