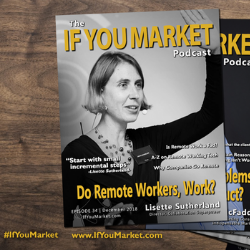 "People want to work remotely because they want to be more productive and that when you give them the flexibility, most people suffer from burnout because they have a hard time turning off. We can work anywhere at any time, and we tend to do that. That's much more of a problem than laziness."
TAMPA, Fla. (PRWEB) January 24, 2019
CNBC outlined a recent IWG report noting how 70 percent of the global workforce works remotely once a week.(1) Additionally, 53 percent of remote workers telecommute for at least half the week.(2) The study also concluded that the rise of technology is the driver of altered perceptions surrounding work locations and hours(3) as 90 percent of remote workers plan on telecommuting for the rest of their careers.(4) "The thing is people don't realize how far we've come with technology in the last five years," said Lisette Sutherland, Director of Collaboration Superpowers in the latest B2B If You Market Podcast. Sutherland provided tools for business-to-business (B2B) brands to operate outside of the friendly confines of a traditional workspace on Episode 34 of the If You Market podcast "Working Remotely, with Lisette Sutherland," hosted by MountainTop Data CEO Sky Cassidy and JOTO PR CEO Karla Jo Helms.(5)
When discussing applications to streamline unified communications, Sutherland identified her opposition towards Skype for Business. In 2016, over half of enterprises were already using the platform while one-third adopted the cloud-based Office 365 version,(6) but increased competition has penetrated the video conferencing market as it's expected to grow to $41 billion by 2022.(7) Sutherland's preferred video conferencing tool is Zoom and mentioned that Skype for Business is one of the worst video conferencing tools on the market and yet it's what most people are still using.
In addition to video conferencing, Sutherland also advocates for group chat tools like Slack as well as task management tools to visualize the workplace. However, Sutherland notes that some companies aiming to become remote lack trust in their employees because they're not seeing them do the work.
"There is this fear that [if] I can't see you, you're not going be working," Sutherland said. "What's really strange is that the opposite tends to be true. People want to work remotely because they want to be more productive and that when you give them the flexibility, most people suffer from burnout because they have a hard time turning off. We can work anywhere at any time, and we tend to do that. That's much more of a problem than laziness."
Sutherland's Guide to Managing a Remote Workforce
1. Avoid micro-monitoring employees to garner trust
2. Create a deliberate plan to facilitate success
3. Set clear expectations and outline expected results
4. Create a team agreement on what kind of information that will be shared, how the team will communicate, how you will know what each team member is doing
"I love that you're getting everyone's agreement," Helms said. "You get team agreement—they come up with it and then management endorses it…and it's probably more likely to be followed that way."
According to Forbes, a new hire might cost $4,129 and as many as 42 days in lost or compromised productivity, but employees tend to switch careers due to feeling a lack of respect or a lack of autonomy.(8) Cassidy argues that with Sutherland's approach, employees are given more control over how the company's operations are being run.
"When you have people create the solution themselves, they actually follow through with it, "Cassidy says. "We've seen many people where they struggle, we give them more responsibility, make them the boss and suddenly they're good hard workers."
While there has been a number of predictions about the digital workplace and what will happen in the future, the recurring news time and again is "remote working." Analysts agree that remote working will become more, rather than less, widespread in the digital workplace—even within enterprise.(9) To listen to the podcast episode on Remote Workforce with Lisette Sutherland, visit http://ifyoumarkettheywillcome.com/2018/12/18/34-working-remotely-with-lisette-sutherland/
The If You Market podcast is a 45-minute conversation about B2B marketing—new trends, best practices and established tried-and-true. Each episode features a conversation with one expert guest discussing topics like: content marketing, account-based marketing, social media, marketing automation, PR, etc.
The podcast airs on iTunes, Stitcher, Google Play and Tunein Radio.
About Lisette Sutherland
Lisette Sutherland is a remote-working German-born American living in the Netherlands and has given presentations at a wide range of events, from conferences and meetups all over the world to a TEDx talk on the theme Unbox the Future in Kaunas, Lithuania. Her workshop clients include Air France, ING, CrossKnowledge (Wiley), Rabobank, and Saint-Gobain. In January 2018, both the Collaboration Superpowers podcast and the 21st-Century Work Life podcast series were deemed among the Best Remote Work Podcasts by Workplaceless. Lisette is also the office manager for the 100 percent remote company Happy Melly, a global professional happiness association dedicated to helping people be happier at work.
About the If you Market They Will Come Podcast
Meet If You Market podcast host, Sky Cassidy—an accomplished B2B marketing guru. And his co-host, disruptive PR evangelist Karla Jo Helms. Together they talk with industry experts to analyze marketing and public relations tactics from a perspective of data leveraging in marketing, entrepreneurial insight, and a measure of crisis management.
Sky Cassidy is also the CEO of MountainTop Data. MountainTop Data, based in Los Angeles, CA, provides data and data services for B2B marketing. Karla Jo Helms is the CEO and Anti-PR Strategist of PR agency, JOTO PR DisruptorsTM, based in Tampa, FL. Visit them via http://ifyoumarkettheywillcome.com/category/if-you-market-podcast/
1, 2 and 3. Browne, Ryan. "70% of people globally work remotely at least once a week, study says," CNBC, May 30, 2018.
4. Caramela, Sammi. "Communication Technology and Inclusion Will Shape the Future of Remote Work," Business News Daily, December 27, 2018.
5. Cassidy, Sky. "How to Develop LinkedIn Thought Leadership, with Rachel Simon," If You Market podcast; November 20, 2018.
6. Taylor, Ian. "How to be Successful with Skype for Business," UCToday; December 5, 2017.
7. Cohan, Peter. "Zoom Scoops Customers From Cisco In $16 Billion Video Conferencing Market," Forbes; October 3, 2017.
8. Craig, William. "3 Reasons Why Employee Recognition Will Always Matter," Forbes; July 17, 2017.
9. Roe, David. "Why the Enterprise Workplace Should Be Ready for More Remote Workers in 2019." CMSWire.com, CMSWire.com, 16 Jan. 2019, cmswire.com/digital-workplace/why-the-enterprise-workplace-should-be-ready-for-more-remote-workers-in-2019/.