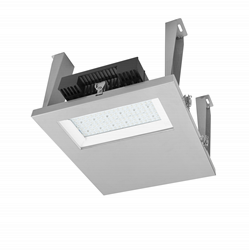 The newly improved LTSI series tunnel luminaires deliver greater efficacies than competitor fixtures, and the power line LPCM reduces installation expense while also saving time.
KENOSHA, Wis. (PRWEB) July 31, 2020
To balance the demands of traffic safety, budget and environmental concerns, tunnel and underpass lighting must deliver ever-increasing energy efficiency and flexibility. Kenall's LuxTran LTSI-A1 and LTSI-A2 luminaires have newly improved efficacies, along with an option for a power line local programmable control module (LPCM) that saves both materials and man hours during installation by eliminating the need for dedicated control wiring.
The LTSI-A1, a compact 22"× 22" stainless steel fixture with five IES distribution options, can be mounted on either walls or ceilings to provide supplemental lighting in various tunnel zones. It has an IP-66 rating and powerful lumen packages ranging from 13,406 – 39,938 lm; achieving up to 155 lumens per watt. The LTSI-A2 is slightly larger (22"× 33.5"), with the same features, more powerful lumen packages and even greater efficacy -- up to an impressive 165 lm/w.
Michael Maltezos, Kenall's Transportation Sales Manager, works closely with transportation engineers on tunnel lighting projects, in part, to stay in tune with the changing needs of the industry. "Last year we introduced the LTSI series for projects that require smaller, but still very powerful and efficient, fixtures," he said. "As designers and engineers face new challenges, we need to continually advance our offerings to help them succeed. The newly improved LTSI series delivers greater efficacies than competitor fixtures, and the power line LPCM reduces installation expense while also saving time."
For additional information on the LuxTran LTSI series and other tunnel and underpass lighting products, contact Michael Maltezos directly at 847-507-4531.
About Kenall
Kenall Manufacturing, and independent business of Legrand, was founded in Chicago, Illinois in 1963 and has built a reputation for durable lighting solutions of superior quality and exceptional value. Today, the company creates unique solutions for the transportation, healthcare, cleanroom/containment, food processing, high abuse, and correctional lighting markets. Kenall luminaires are designed and manufactured in Kenosha, Wisconsin, and meet the guidelines established under the Buy American Act and the North American Free Trade Agreement. For additional information, visit http://www.kenall.com.
About Legrand and Legrand, North and Central America
Legrand is the global specialist in electrical and digital building infrastructures. Its comprehensive offering of solutions for use in commercial, industrial, and residential markets makes it a benchmark for customers worldwide. Legrand reported sales of approximately $7.1 billion (USD) in 2018. Legrand has a strong presence in North and Central America, with a portfolio of well-known market brands and product lines that includes AFCO Systems, C2G, Cablofil, Chief, Da-Lite, Electrorack, Finelite, Kenall, Luxul, Middle Atlantic Products, Milestone AV, Nuvo, OCL, On-Q, Ortronics, Pass & Seymour, Pinnacle, Projecta, QMotion, Quiktron, Raritan, Sanus, Server Technology, Solarfective, Vaddio, Vantage, Wattstopper, and Wiremold. Legrand is listed on Euronext Paris and is a component stock of indexes including the CAC40, http://www.legrand.us.