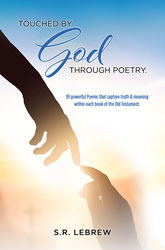 I was inspired by the Holy Spirit to put my understanding of each book in poetic form.
BRIDGEWATER, N.J. (PRWEB) November 22, 2021
Author S.R. LeBrew shares more than three dozen powerful Scripture-related poems with readers in Touched By God Through Poetry. ($10.99, paperback, 9781662833618; $19.99, hardcover, 9781662833625; $4.99, e-book, 9781662833632).
LeBrew's refreshingly unique collection of 39 poems is designed to capture the essence and purpose of each story told within the Old Testament books of the Bible. The passion and inspiration she expresses in each poem will provide purposeful reflection for readers. The author credits the Holy Spirit for her inspiration in addition to being heavily influenced by sacred authorities' biblical accounts and traditional biblical doctrines. Her poems bring bible stories to life with the purpose to uplift the reader's soul.
The poems feature the creation of mankind to the covenant relationship between God and the Jewish nation. They focus on obedience to His teachings, trials, triumph and faith. This work of art boldly voices the divine prophecies, direction, hope, and guidance set forth within the Bible stories. The poetic verses bring basic understanding and clarity to Scripture. They eloquently compose key elements of The Old Testament books that give divine direction to follow Jesus' teachings, prepare for His coming and develop a personal relationship with God.
"In the solitude of the pandemic, I turned to the Bible for strength and perseverance," said LeBrew. "I was inspired by the Holy Spirit to put my understanding of each book in poetic form. Every reader can learn and be inspired by these poems; particularly religious organizations, Bible class, and personal enrichment. Anyone that understands the bible and those who want to the bible in a simple, easy, fun way!"
S.R. LeBrew is a Philadelphia native and graduate of Temple University. During time spent in Massachusetts, she completed graduate studies and is an alumnus of Harvard University. LeBrew is a retired insurance executive, known for driving growth in new business segments, along with conducting professional insurance seminars worldwide. She is a proud mother, having raised two successful sons along with her devoted and loving husband of 36 years.
LeBrew has been writing and reciting poetry since early childhood and has garnered numerous outstanding poetry achievement awards and local media accolades. Mastering the art of writing poetry, she discovered a creative way to bring Bible stories to life. Readers will experience firsthand the passion and inspiration expressed within her writing. She has spent 40 years in Christian affiliation and ministry, and serves as a Bible study teacher. LeBrew has faith in the Word of God and believes the Bible is powerful, uplifting, and a source of strength. In her free time, she enjoys writing, reading, physical fitness, community volunteering, and spending time with her family.
###
Xulon Press, a division of Salem Media Group, is the world's largest Christian self-publisher, with more than 15,000 titles published to date. Touched By God Through Poetry. is available online through xulonpress.com/bookstore, amazon.com, and barnesandnoble.com.