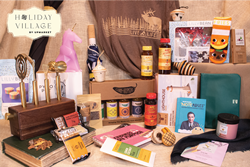 "Two important things are missing from the usual e-commerce experience: curation and community. You can trust that gifts on Upmarket are high quality, creative, and new, and that there are real people and stories behind the brands."
BROOKLYN, N.Y. (PRWEB) December 07, 2020
Upmarket, an innovative e-commerce company, is hosting Holiday Village, a virtual Christmas market. This is great news for shoppers who look forward to doing their holiday shopping every year at local holiday markets to find unique, handmade gifts for everyone on their list – while supporting small businesses. The pandemic put these experiences in jeopardy, but via Holiday Village by Upmarket, it's still happening…online! https://holidayvillage.byupmarket.com/
"Two important things are missing from the usual e-commerce experience: curation and community," said George Ketterer, Co-Creator, Holiday Village by Upmarket. "You can trust that gifts on Upmarket are high quality, creative, and new, and that there are real people and stories behind the brands."
The founders of Holiday Village by Upmarket decided to pivot around the pandemic and work to re-create the essence, energy, and excitement of Christmas markets that shoppers can enjoy without leaving their homes. Upmarket's first virtual market launched just prior to Thanksgiving and will run through January 3rd, 2021.
Vendors at Holiday Village by Upmarket are small business owners from all over the United States who sell carefully curated homemade goodies in the categories of food, home, apparel, beauty/wellness, kids, pets, and more! Many of these vendors make their living selling wholesale to shops that the pandemic forced to shut down and are struggling to stay in business.
Products sold range from $15 to $100, with most items in the $25-$40 range. Shipping on all items is free.
Here's a look at the shops you can browse at Holiday Village by Upmarket: https://holidayvillage.byupmarket.com/our-shops/
About Upmarket: Upmarket is a digital marketplace bringing pop-up events to consumers online. Our mission is to simplify and reinvigorate the joys of holiday shopping. We pair shopping from exceptional small businesses with live and interactive content, beginning with events for the holiday season. Upmarket was founded in 2020 in Brooklyn, New York by entrepreneurs George Ketterer and Riley Konsella. See more at: http://www.byupmarket.com