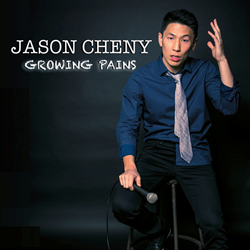 Jason Cheny is a winner. His comedy is advanced beyond his years.
LOS ANGELES (PRWEB) August 27, 2018
Jason Cheny, born and raised in Taiwan, re-raised in America, toiled in Canada and soiled in a military school delivers nuances of life from multiple perspectives. His visceral comedic stories are born of an understanding that happiness happens outside of your comfort zone. His keen observations of heritage served up with energetic wit, culminate in anecdotes about family, culture, and society that ring with an optimistic vigor.
About "Growing Pains":
Jason Cheny is a winner. No, literally. He won the 2017 World Series Of Comedy over hundreds of other comedians. His comedy smartly mixes sly, smirking coolness with earnestness. A bubbly, dry, sometimes salty playfulness hovers gracefully over principled compassion. "Growing Pains", Cheny's debut album, invites audiences to expand their horizons in fun and interesting ways. Jason, casual and accessible, enthralls listeners with his personal history while challenging unexamined and unconscious biases. His humor filters universal experiences through cultural differences and an upbeat attitude. Taking top honors at the 2017 World Series of Comedy was no fluke, Jason Cheny has a winning personality.
This young, smartalec Millennial, while immensely charismatic, is an equally impressive joke writer. Comedy can be as much a structure as an artform, and Jason Cheny is solid. Growing Pains highlights a talent for approaching tough topics with lighthearted swagger. Sometimes Jason embraces contradictions, like when he projects childhood punishment as a symbol of love. Other times, the Taiwan-born comedian highlights the idiosyncrasies and friction inherent in his immigration. Through misdirection and diction, callbacks and rhythm, Jason consistently proves that his comedy is advanced beyond his years.
Listen to Jason Cheny on:
Spotify
iTunes
Amazon
SoundCloud
About Uproar Entertainment:
Uproar Comedy discovers the Stand-Up Comedy Stars of tomorrow. Producing recordings live in comedy clubs, we make these talented comedians available for your enjoyment on every digital and streaming platform. We brought you the very first comedy CD recordings by Brian Regan, Margaret Cho, Alonzo Bodden, and John Pinette, just to name a few! David Drozen, President of Uproar Comedy, discovered and produced the first 12 Richard Pryor comedy albums. Come inside the world of Uproar Comedy and discover the vast array of talent and laughs that await you – 'cause life is better when you're laughing!