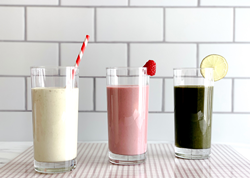 "Our nutrient-packed, plant-powered Phytopúr products aren't about limiting people to fad restriction plans, but rather about easily adding an array of plant foods to our everyday lifestyle." - Stacy Kennedy, VP of Program Development, Upshoot
COSTA MESA, Calif. (PRWEB) November 12, 2019
Upshoot announces their new plant-based products designed to support healthy lifestyles through the power of plants, programs and community. The company has recently launched in the United States their complete Phytopúr line of nutritious and delicious shakes, smoothies, super drinks, and soups that make plant-powered nutrition more accessible for everyday consumption.
Backed by their Phytopúr promise to be convenient, affordable, reliable and enjoyable, the plant-based just-add-water products can easily fit into today's busy lifestyles, enabling people to get their daily five servings of fruits and vegetables on-the-go, or add them to a variety of favorite foods and beverages—anytime, anywhere.
"Most of us know what to do in terms of healthy eating, but the challenge is doing it, day-to-day, week-to-week, year-to-year. So we created products and programs that help people plug their wellness goals right into their life," said Stacy Kennedy, VP of Program Development at Upshoot. "Our nutrient-packed, plant-powered Phytopúr products aren't about limiting people to fad restriction plans, but rather about easily adding an array of plant foods to our everyday lifestyle."
Upshoot's Phytopúr products are made of wholesome fruits and vegetables from trusted farms, and are supported by sound science, patented technology, rigorous quality standards, proven results and backed by a satisfaction guarantee. Through revolutionary TruServ technology, each product serves up phytonutrients and complete plant protein in ways that enable consumers to trust the number of fruit and vegetable servings on the label.
"One of the additional factors that really sets our products apart is their great taste," said Scott Harris, VP of Product Development at Upshoot. "We focused on creating beverage and meal options that deliver a delicious and rewarding experience that helps people fall more in love with all the benefits of plant-based foods."
Powering the products are Upshoot's scientifically curated and adaptable Reboot, Weight Loss and Lifestyle programs that reduce the confusion, complication and cost of traditional nutrition regimens while guiding people down the right health path.
For more information about Upshoot's programs, Phytopúr products and entrepreneurial opportunities, visit upshoot.life.
About Upshoot
Headquartered in Costa Mesa, California, Upshoot is a healthy lifestyle company on a mission to make plant-powered nutrition accessible to everyone, through programs, products and people. The company's Phytopúr product line unlocks the power of plants through science and is distributed through an independent national network of Ambassadors who are passionate about helping others create healthier lifestyles. Learn more at https://upshoot.life and connect @upshootlife.
PRESS CONTACT:
John Laun, VP of Marketing & Sales, Upshoot
jaunlaun@upshoot.life