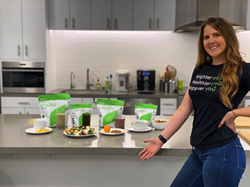 "We were so inspired to see all the plant-powered recipes, transformation results and success stories from just this one Reboot." -- John Laun, Upshoot's VP of Marketing & Sales
COSTA MESA, Calif. (PRWEB) January 28, 2020
On January 8, Upshoot kicked off its inaugural 2020 Community Reboot nationwide to inspire people of all ages and lifestyles to get healthier through plant-powered nutrition, 10 days at a time. The healthy lifestyle brand's 'New Year, New Yoú' marketing campaign targeted the 40% of Americans who set resolutions around January 1, and leveraged the power of social community to support people in achieving their health goals through Upshoot's popular Reboot program by month's end.
"We've found that tapping into both your own community and our Upshoot community can make all the difference in sticking to a nutrition plan and continuing forward towards your health goals—and we've been able to make the entire experience creative, happy and fun," said Stacy Kennedy, Upshoot's VP of Programs.
The Reboot is one of Upshoot's three nutrition programs, powered by their phytonutrient product line of the Phytopúr Shake, Smoothie, Super Drink, and Soup. Built on the foundation of 10,000 plant-powered transformation stories, the Reboot program enables people to follow a structured 10-day reset plan, with nearly 100% of meals and snacks being fruits and vegetables, designed to give them a jump-start into feeling and looking their very best.
The January Community Reboot (Jan 8 – Jan 17) culminated in personal victories—both on and off the scale. Reported feedback included individual weight-loss results ranging from several pounds, to over 10 pounds for some. Those who followed the program's recommended day-by-day Reboot guidelines consumed over 12 servings of fruits and vegetables each day, which is significantly higher than the daily 2.4 servings Americans get on average.
"We were so inspired to see all the plant-powered recipes, transformation results and success stories from just this one Reboot," said John Laun, Upshoot's VP of Marketing & Sales. "In less than 10 days, our Reboot Community Facebook group got nearly 2,000 posts, likes and comments with community members educating, supporting and celebrating each other. Personally, I lost seven pounds on the Reboot and feel amazing."
Upshoot is currently gearing up for its February Community Reboot (Feb. 3 – Feb. 12), this time joined by internationally recognized plant-powered nutrition advocate and award-winning filmmaker, Joe Cross. Learn more about the Reboot at https://www.upshoot.life/promotions/2020-new-year-new-you/.
About Upshoot:
Headquartered in Costa Mesa, California, Upshoot is a healthy lifestyle company on a mission to make plant-powered nutrition accessible to everyone, through programs, products and people. The company's Phytopúr product line unlocks the power of plants through science and is distributed through an independent national network of Ambassadors who are passionate about helping others create healthier lifestyles. Learn more at upshoot.life and connect @upshootlife. Inquires: press@upshoot.life