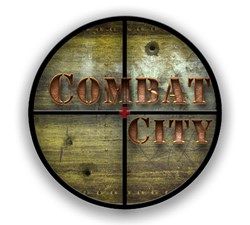 Orlando, FL (PRWEB) September 06, 2013
Combat City USA is excited to announce they are partnering with Upside Group Franchise Consulting to offer franchise opportunities to entrepreneurs interested in providing their community with a family oriented Airsoft Battle Arena.
Dave Kaplan, the owner and designer of Combat City, is a former Marine and Police Officer who was looking somewhere to engage in Airsoft war simulation games with his son, but there were no such venues in Florida. Being a general contractor and natural problem-solver, the determined dad combined his expertise and former military training to create the largest Airsoft field the Southeast had ever seen and named it Combat City USA. Strategically placed near the Orlando International Airport, it was an immediate success.
Unlike paintball and laser tag, Airsoft guns are more realistic in action and appearance because they are modeled after real weapons and fully automatic, but aren't messy because they are loaded with 6mm plastic BBs. When players step onto the field, they are instantly immersed within the dynamic gaming area complete with grenades, riot gear, flash bangs, and tanks, being fashioned from today's first person video games.
Aside from Combat City's outdoor venue in Orlando, an indoor arena was soon open in Winter Park, Florida. Participants at both locations play games such as Capture the Flag while shooting at opponents from behind barricades and other viewpoint obstructions. By mid-August 2013, a new hybrid indoor/outdoor arena opened in Orlando's tourist district on International Drive where shooting battles will flow from the air-conditioned indoor section into an exciting outdoor course. Along with being the largest Airsoft shooting venues in Florida, all the Combat City locations have a complete Airsoft store with tactical gear, Wi-Fi, and a full service snack bar.
With Combat City's increasing popularity, Kaplan was approached by long-time family friends Jerry and Joan Lang, who are very successful business owners that amongst other things, operated a manufacturing company for over 40 years distributing top quality millwork products to the hospitality industry worldwide. The Lang's brought their financial backing and decades of business ownership to create a formidable Combat City business package.
With the enthusiasm Kaplan and his own family receive playing with Airsoft guns, he understands how participants benefit physically and mentally from the shooting sport and would like to see others gain the same rewards. The company began getting approached by people asking if there were franchise opportunities to offer. Kaplan turned to friend and fellow businessman, Mark Gurley, who is the owner and mastermind behind Rebounderz indoor trampoline arena. Due to Gurley's positive experiences with Upside Group Franchise Consulting in regards to franchising Rebounderz, he was more than happy to recommend Kaplan contact the President of USG, Mario Altiery, for his franchising needs. Trusting his friend's judgment, he called Mario who was delighted to meet with Kaplan and his father. Once their meeting concluded, the Kaplans were quite pleased with the information they were provided and impressed with Mario's professional and personable approach to franchising. Kaplan now knew he had the ideal franchising consultant on his team and could start discussing the details of his new franchise opportunity with those who had already contacted him about investing in Combat City USA.
Dave Kaplan is thrilled about offering Combat City USA as a franchise and wants others to share in his excitement. "The goal of franchising -- to win. That's my only goal with everything and I am here to help my franchisees win too!"
To learn more about Combat City USA, please visit: http://www.combatcityusa.com
Upside Group Franchise Consulting is a full service, boutique franchise consulting firm with offices across the country. They have a handpicked, professional staff with decades of franchise experience from all disciplines of the franchise industry. Upside Group Franchise Consulting offers their clients a full suite of franchise services including innovative franchise marketing programs, outsourced franchise sales, franchise sales training, franchise lead screening, franchise manuals, franchise marketing collateral, and award winning web design. Headquartered in Scottsdale, Arizona, Upside Group Franchise Consulting regularly speaks at International Franchise Association events and the American Bar Association, serve as contributing writers for several franchise industry publications and have instructed at Nova University, the nation's leading institution for higher education in the franchise industry.
To learn more, please visit: http://www.upsidefranchiseconsulting.com