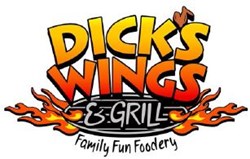 Jacksonville, FL (PRWEB) November 14, 2013
Dick's Wings & Grill® is excited to announce they are partnering with Upside Group Franchise Consulting to offer franchise opportunities to entrepreneurs interested in providing their community with a family friendly, sports-themed restaurant offering a quality menu of unique flavors.
The very first Dick's Wings & Grill® opened on Florida's Jacksonville Beach in 1988. It was an immediate success and paved the way for 13 additional locations that are just as popular because of the company's unwavering dedication to serving quality food that is fresh and never frozen. Dick's Wings & Grill® is especially proud of being voted "Best of…" more than once for their wings and trivia by the communities who love their mouthwatering food and fun atmosphere.
The executive board of Dick's Wings & Grill® realized they were destined for the big time when they began receiving calls from up and down the east coast from potential customers who had heard about their excellent food. The company's popularity is so widespread that one Captain on a Navy Air Craft Carrier called to have wings shipped to his crew as a Christmas gift because when he asked his crew what they missed the most from home, the general response was "Dick's Wings!"
It's no secret that people are in love with Dick's Wings & Grill®, but combine this with the company's commitment to consistency and quality, their low-cost development model, and their proven restaurant management system, franchising is the next logical step to serving and satisfying a much larger fan base.
Finding the right franchise consulting firm was a daunting task. Although there are plenty of consulting firms available, only Upside Group had the right experience and proven expertise to suit the needs of Dick's Wings & Grill® and its unique requirements. Upside Group understands the restaurant's concept and its current and future needs. The executive board of Dick's Wings & Grill® appreciated that USG will create a partnership with them that will lead to greater successes and assist them with reaching their end goal of giving back to local communities through networking efforts and supporting schools and charities.
Now that Dick's Wings & Grill® is being offered as a franchise, families in your neighborhood will be able to enjoy their unique, originally flavored chicken wings and other amazing menu items in a clean and relaxed environment with a fun and sporty atmosphere!
About Dick's Wings & Grill®
Dick's Wings & Grill® has become one of the fastest growing franchises in North Florida along with America's appetite for comfortable family dining. With the down-home sports theme, Dick's Wings & Grill is the personification of a place where people can sit back, relax and make themselves at home.
For franchising information, please visit: http://dickswingsandgrill.com/franchise-info.
About Upside Group
Upside Group Franchise Consulting is a full service, boutique franchise consulting firm with offices across the country. They have a handpicked, professional staff with decades of franchise experience from all disciplines of the franchise industry. Upside Group Franchise Consulting offers their clients a full suite of franchise services including innovative franchise marketing programs, outsourced franchise sales, franchise sales training, franchise lead screening, franchise manuals, franchise marketing collateral, and award winning web design. Headquartered in Scottsdale, Arizona, Upside Group Franchise Consulting regularly speaks at International Franchise Association events and the American Bar Association, serve as contributing writers for several franchise industry publications and have instructed at Nova University, the nation's leading institution for higher education in the franchise industry. To learn more, please visit: http://www.upsidefranchiseconsulting.com.