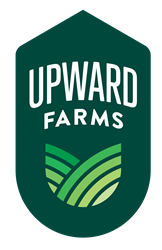 We are proud that our sustainability practices set a new standard, and our disruptive technologies and business model compel our peers and incumbent food brands to elevate the quality of food and impact of farming practices at large - Jason Green, CEO and Cofounder of Upward Farms
NEW YORK (PRWEB) August 26, 2022
Upward Farms, the leading organic vertical farming company, announced today its recognition as the winner of the "Vertical Farming Solution of the Year" award from the 2022 AgTech Breakthrough Awards. AgTech Breakthrough, a leading market intelligence organization that recognizes the top companies, technologies, and products in the global agricultural and food technology markets, conducted the awards.
Upward Farms is the only large-scale, indoor vertical farm using aquaponics to offer locally grown, washed, ready-to-eat USDA Certified Organic leafy greens, and Best Aquaculture Practices-certified fish. Its vertical farming method brings whole ecosystems into controlled environment agriculture through aquaponic farming of leafy greens, fish, and the cultivation of a nutrient-rich microbiome.
Upward Farms' aquaponic process combines controlled environment farming of seafood and produce together in a complete ecosystem. Fish are sustainably raised on land using Recirculating Aquaculture Systems ("RAS"), where upwards of 90% of the water used for raising fish is recirculated and there is zero runoff. Inside the same facility, nutrient rich water from the fish is used to fertilize the Company's vertically farmed leafy greens, which conserves 95% of water compared to field farming, and avoids the use of synthetic fertilizers and pesticides.By farming in a complete ecosystem of animals and plants, the company cultivates a robust microbiome — the community of bacteria and other microbes that drive soil fertility, and the natural truth at the core of regenerative and other ecological farming practices.
The Company's breakthrough is Ecological Intelligence, Upward Farms' proprietary platform to continuously evolve the microbiome around plants to deliver unprecedented outcomes in farming — the highest levels of productivity, predictability, and stability. As a result, Upward Farms leads the industry across commercial yields, next generation R&D yields, and by naturally preventing 99% crop disease incidence.
The Company is presently in development of its third vertical aquaponic farm, and the company's first hyperscale facility. Scheduled to be completed in 2023, Upward Farms' Northeast Regional Farm will be the world's most productive vertical farm. In addition to having the highest output of leafy greens, the facility's aquaculture operations will produce more than 160 metric tons of sustainable fish per year, displacing some of the 90% of fish consumed in the US that is imported.
"We are grateful to AgTech Breakthrough for this recognition. Our vision as a company and brand is that we can improve the way our food is grown by nurturing ecosystems from nature, and our commitment is to grow better food and sharing it in abundance. Growing delicious food in truly sustainable ways within the foodsheds where its consumed is one of the most important steps we can take to combat the climate crisis," said Jason Green, CEO and Cofounder of Upward Farms. "We are proud that our sustainability practices set a new standard, and our disruptive technologies and business model compel our peers and incumbent food brands to elevate the quality of food and impact of farming practices at large."
The mission of the annual AgTech Breakthrough Awards program is to conduct the industry's most comprehensive analysis and evaluation of agricultural and food technology categories, including Internet-of-Things (IoT) and Artificial Intelligence (AI) based agricultural technologies, farm management, indoor farming, food quality, data analytics and many more. This year's program attracted more than 1,600 nominations from over 15 different countries throughout the world.
"Seafood is one of the world's most traded food commodities by value, accounting for $164 billion in global trade each year. In the US, 90% of seafood is imported. Given global supply chain issues, inflation, and the severity of the climate crisis, localizing production and distribution is imperative," said Bryan Vaughn, Managing Director, AgTech Breakthrough. "Upward Farms' aquaponic approach to raising fish will be the new gold standard for the industry and appeal to conscious consumers. They will also be able to simultaneously scale and study microbial communities for agricultural production that naturally build soil to increase plant productivity, enable system scale in indoor farms, and inform the future of regenerative agriculture for the entire industry. Congratulations on being our choice for the 'Vertical Farming Solution of the Year' award."
About Upward Farms
Based in Brooklyn, NY, Upward Farms is a breakthrough vertical farming company bringing whole ecosystems into controlled environment agriculture through aquaponic farming of leafy greens, fish, and a robust and beneficial microbiome. Founded in 2013 and led by CEO and Cofounder Jason Green, Upward Farms is the only large-scale vertical farm offering locally grown, washed and ready to eat USDA Certified Organic leafy greens and Best Aquaculture Practices-certified fish. Upward Farms grows and packs superior quality microgreens bursting with delicious flavor and nutrients that are best-selling products at Whole Foods Market. As a leader in the science behind regenerative agriculture, Upward Farms understands the role of the microbiome in the health of the soils and waters that produce the food on our plate. To learn more, visit http://www.upwardfarms.com.
About AgTech Breakthrough
Part of Tech Breakthrough, a leading market intelligence and recognition platform for global technology innovation and leadership, the AgTech Breakthrough Awards program is devoted to honoring excellence in agricultural & food technologies, services, companies and products around the world. The AgTech Breakthrough Awards program provides a forum for public recognition around the achievements of AgTech companies and solutions in categories including farm management, indoor farming, FoodTech, automation, IoT and robotics, FoodTech, analytics and more. For more information visit AgTechBreakthrough.com.