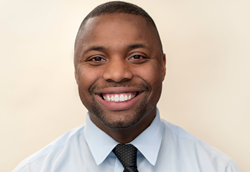 "David Adams is the right combination of vision, ability, empathy, and leadership for this time in our city. We need his grit and his grace to conquer these challenges."
NEW YORK (PRWEB) February 22, 2021
The Urban Assembly (UA), a leader in innovative school support solutions that boost school and student performance, will transition to new leadership on March 1st. CEO Kristin Kearns-Jordan announces that after nearly five years at the helm, she will step down. The board has appointed the UA's current Senior Director of Strategy David Adams, a well-known expert in social-emotional learning and business development strategy, as CEO.
Kearns-Jordan, who will remain with the UA as a member of the board, led the organization through a transition that shifted its primary impact strategy from creating small career-themed public schools to becoming a model provider of school support. After succeeding founder Richard Kahan as CEO, Kearns-Jordan built a diverse team of experts to develop and codify data-focused and student-centered programming in academics, social-emotional learning, postsecondary access, and alumni success. The UA team worked with school leaders and educators across a network of 20 UA-founded schools to create equitable programs and practices that raise rates of achievement for schools and students. The network eventually expanded to include 23 unscreened schools in New York City that outperform the rest of the system. The UA's graduation rate of 86% is seven percentage points higher than the citywide average (79%), and almost 80% of UA students enroll in college within six months.
"What I have learned leading the UA is the power of a school network to drive excellence and innovation," says Kearns-Jordan. "Principals, teachers, counselors, and deans build trust and learn from one another, with accountability to the community as well as to their students. They also try new things together, and whether the innovation comes from inside a school or from a partner like the UA, the network provides the opportunity to hone and scale what works."
"Under Kristin's leadership, the Urban Assembly grew in size, reached new heights, and gained respect and admiration nationwide," says Richard Kahan. "She has built an unparalleled staff and with them created a strong strategy for the future."
The UA's Resilient Scholars Program (RSP), a social-emotional learning initiative developed by Adams, became the first UA program to be adopted by schools and districts outside of the Urban Assembly. Supported by the Carnegie Corporation of New York and the Ford Foundation, RSP was first adopted by a set of elementary, middle and high schools in the Los Angeles Unified School District in 2017. By 2019, RSP was implemented in the KIPP and CUNY schools and District 75 schools in New York City, as well as schools in Houston, Syracuse, and Tennessee. In 2020, Adams was promoted from Director of Social-Emotional Learning to Senior Director of Strategy to work with the UA's other teams to scale their programs for national expansion. Under his leadership, the RSP program has continued to expand to schools and districts in New Jersey and Wisconsin, while the UA's Postsecondary team has been contracted by DC Public Schools and the Alumni Success team has been contracted to work with schools in Chicago.
When Kearns-Jordan was ready to step-down, she recommended Adams as the natural choice to take the leadership role, and the Board of Trustees unanimously agreed.
"Dave is the right person to lead the UA into our post-COVID chapter because he knows how to nurture innovation and build systems to scale it," says Kearns-Jordan. "I cannot be more hopeful about the impact the UA will have on public schools under his leadership."
"His strong sense of mission, character, and leadership skills that he developed in the education system and the military, has prepared him for the next challenge," says Kahan. "He has earned the respect and affection of his coworkers, education leaders, and the UA's partners. David is ready to take the UA to the next level."
"Under David Adams' leadership, the UA has a new opportunity to bring its programs and services to more schools outside of our local network," says Anthony Kiser, UA Board Chairman. "We can focus more on creating a national program that improves academic performance for public school students."
"David Adams is the right combination of vision, ability, empathy, and leadership for this time in our city," says Reverend Jacques Andre DeGraff, Social Justice Activist and Former UA Board Chair. "We need his grit and his grace to conquer these challenges."
Adams looks forward to building on the accomplishments of Kearns-Jordan, while continuing to push the UA towards national expansion and impacting education policy.
"Under my leadership the UA will continue to work with our 23 schools in NYC to develop innovative approaches for school improvement, while also offering these approaches to schools and districts nationwide," says Adams. "We're moving from our kids to all kids in the pursuit of a public education system that drives social and economic mobility."
###
About the Urban Assembly:
The Urban Assembly is a model provider of innovative school support services. For more than 20 years, the UA has been raising rates of achievement for public school students through support services that help school leaders and educators with data-focused and student-centered programming in academics, social-emotional learning, postsecondary access, and alumni success.
Founded in 1997, the UA created more than 20 small, career-themed middle and high schools in collaboration with the New York City Department of Education. Today the UA network includes 23 schools, serving 9,000 students, and 4,000 alumni. The Urban Assembly outperforms other schools in the system with higher English and math college readiness scores, a higher graduation rate, and more UA graduates enrolling in college within six months.
With the success of UA schools in NYC, the Urban Assembly is now a model provider of school support services, serving schools and districts in Los Angeles, Washington DC, New Jersey, Wisconsin, and Tennessee.
About Kristin Kearns-Jordan:
Kristin Kearns-Jordan has worked to advance equity and quality in New York City education since graduating from Brown University in 1991. She has served as the Chief Executive Officer of the Urban Assembly for the past four years. Previously, she served as the Executive Director of the Tortora Sillcox Family Foundation, investing approximately $3.5 million annually in organizations that provide education opportunities and support to New York City students. Kristin is also the founder and served from 2000-2007 as Executive Director of the Bronx Preparatory Charter School, a college preparatory middle and high school serving young people selected by lottery in the South Bronx.
Kristin began her career working at the Student/Sponsor Partners, a mentoring and financial aid program for high school students in New York City. With a group of donors she founded the School Choice Scholarships Foundation to provide similar opportunities to elementary school students. During her 25 year career in education she has consulted with not-for-profit organizations in education and served on several boards, including the Student/Sponsor Partners, the READ Foundation, Friends of Bronx Prep, and the Cathedral School of St. John the Divine.
About David Adams:
An expert in Social-Emotional Learning, David Adams has spearheaded multiple initiatives to support the social-emotional development of more than 9,000 students at Urban Assembly (UA) schools in New York City. Starting as Director of SEL in 2014, David created the Resilient Scholars Program (RSP), a unique approach to integrating SEL into curriculum and classroom practices across the UA network. Under his leadership the UA has partnered with organizations like the Black Man Can Inc. and Dangers of the Mind to invest in positive identity formation for youth of color while organizing systems to reduce disproportionality in discipline and graduation rates. RSP has grown into a national program, serving schools and districts in Los Angeles, Houston, Syracuse, and other cities. Now the Senior Director of Strategy, David is leading the expansion of the organization into a model provider of school support, with an emphasis on innovation and equity in public education. David sits on the board of CASEL and is an author of The Educator's Practical Guide to Emotional Intelligence, and co-author of a chapter in the textbook, Challenges to Integrating Diversity, Equity, and Inclusion Programs in Organizations. David has spoken and written extensively about the intersection of social emotional development and equity, and is a co-organizer of the Lift Every Voice: The Global Forum on SEL & Antiracism. He is a Civil Affairs Officer in the Army Reserve and holds an M.Ed in Educational Psychology from Fordham University.