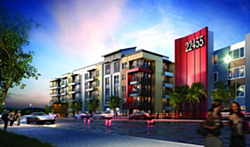 San Francisco, California (PRWEB) August 12, 2017
US Capital Partners Inc. has been engaged as the exclusive advisor to New Cities Investment Partners, LLC for the capital formation for a $110MM mixed-use real estate development named the 'Maple & Main Project' in Hayward, located in California's flourishing San Francisco Bay Area. To showcase this project, US Capital will be hosting an investor event on Thursday, August 17th between 6pm and 8pm at the iconic Bently Reserve. This landmark, known as the former San Francisco Federal Reserve building, is located at 301 Battery Street. This will be an opportunity to meet the management team and join the discussion around Maple & Main's conception.
The Maple & Main Project has been unanimously approved by the Hayward City Council and is expected to be a catalyst for downtown revitalization. The project is located at Main, Maple & A Street on a 3.9 acre site four blocks from the BART, and consists of 240 market-rate and affordable apartments and 5,571 square feet of retail space that exhibit both eco-friendly and socially responsible design principles.
Other planned amenities include a 50,000 square foot medical office, a 504-stall parking garage, three open courtyards, a swimming pool, a 3,600-square-foot clubhouse and a 6,460-square-foot rooftop terrace. The site also has easy access to the 580 and 880 freeways, and is only a 35-minute BART ride from downtown San Francisco.
Lee Newell, Chief Executive Officer at New Cities, commented: "We approached US Capital Partners to support us with capital formation for this landmark project. We are extremely pleased with the team and look forward to meeting strategic investors and other potential partners."
"We are delighted to be involved in this project, which is so close to home for us," said Jeffrey Sweeney, Chairman and CEO at US Capital Partners. "The business comes at a good time as the area has benefited substantially from San Francisco and Silicon Valley's prosperity. Just down the road from this site, residents will find high-profile employers such as Tesla Motors, Seagate Technology, and Amazon. The opportunity to participate in this fund is now open to eligible investors."
To join the investor event on Thursday, August 17th, please message psteele(at)uscgsecurities(dot)com to RSVP.
About New Cities Land Company, Inc
New Cities Land Company, Inc. ("New Cities"), formed in 1984, is a privately held corporation based in Walnut Creek, California. The company is active in land use entitlements, multi-family residential developments, and commercial investment-grade properties in California. New Cities controls New Cities Investment Partners, LLC, an entity focused on the acquisition, entitlement and development of urban infill apartment sites in the greater San Francisco Bay Area. New Cities is also the managing member of Bay Area Property Developers, LLC. New Cities is led by industry veteran Lee Newell and his senior team of Blake Peters, Stuart Brown, and Travers Newell. New Cities has developed over $2.5BN of real estate in California, Nevada, and Arizona.
About US Capital Partners Inc.
Since 1998, US Capital Partners has been providing well-structured, custom finance solutions to private and public companies in the United States and abroad. Headquartered in San Francisco, US Capital Partners, operating with its affiliate US Capital Global Securities, LLC, is a full-service private investment bank with a wide distribution for debt and equity private placements. The group makes debt investments between $500K and $100MM, participates in debt facilities, and offers asset management, financial advisory services for buy-side and sell-side engagements, and capital formation, including early-stage financings requiring equity or debt. For more information, visit http://www.uscapitalpartners.net.