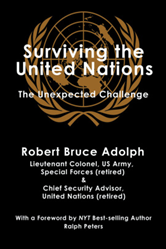 Lieutenant Colonel Robert Bruce Adolph tells in a terse and readable narrative the gripping true story of 4 intense years after he retired from the US Army Special Forces and joined the UN as Chief Security Officer.
ROME (PRWEB) May 26, 2020
In 'Surviving the United Nations: The Unexpected Challenge,' Lieutenant Colonel Robert Bruce Adolph tells in a terse and readable narrative the gripping true story of 4 intense years after he retired from the US Army Special Forces and joined the UN as Chief Security Officer. In that capacity, he goes on to assignments in the world's most dangerous countries, finding himself on terrifying missions that include murderous child-soldiers; blood diamonds; a double hostage-taking; the rape of innocents; an invasion by brutal guerrillas; an emergency aerial evacuation; a desperate mission to recover hundreds of prisoners; tribal gunfights and unusual kidnappings; refugee camp violence; a deadly jihadist suicide bombing attack; institutional corruption; and, unexpectedly, love.
In Sierra Leon, he had a chilling encounter with teen-age guards: "There was no sense in killing me. But, with child-soldiers, logic need not apply. Add alcohol and drugs, and a tough situation gets even worse. It would have been foolish of me to draw my own weapon. I was badly out-gunned, and my vehicle was not armored. If they had seen my pistol, they might have reacted to the potential threat. The use of force was not a viable option. This was no movie, and I am not Chuck Norris."
In Yemen, he found himself in the middle of a gunfight: "Someone must have seen me. The sound of fire came from above as rounds hit the pavement to my right and bits of concrete and tar were thrown into the air. Nothing hit me. I made the safety of the entrance in record time."
But it was also in Yemen that he found his true love and married her: "This is the woman that when we first met—shortly after my arrival in Yemen—verbally assaulted me. All I really remember clearly about the incident was that during her entire harangue, I could not help thinking to myself that she was incredibly cute."
He was with his wife, Naima, in Iraq, when the UN headquarters was attacked by a suicide bomber in 2003: "The sound was an indescribably low-pitched yet outrageously loud multi-tiered rumbling… I felt the air move inside my lungs and then all around me. For the briefest of moments, there was no air to breathe. My next conscious sensations were both visual and physical. I saw and felt the building shake violently… Then the windows of my office seemed to explode inwards. .. It was a bomb—a very big bomb—and we were the intended target." Naima was wounded in that attack, but luckily she fully recovered.
The last chapters describe his fight with the United Nations which wanted to make him the scapegoat for the attack, while as Chief Security Officer he was the one who repeatedly sounded the alarm about the need for more security measures, personnel, and equipment, and his recommendations were ignored at the higher level. In the end, he was completely exonerated and rehired.
Praise
"Robert Adolph is the real deal, a Special Forces officer, UN security expert, and scholar in the most dangerous countries of the world. His life mattered in a way that those of the famous often don't."
—Robert Kaplan, 'New York Times' multiple best-selling author
"No rose-colored glasses here. Bob Adolph lays bare his unique experiences in pursuit of idealistic humanitarian purposes while in some of the toughest places on the planet. Sometimes his most dangerous opponents were in the very organization of which he was a part. To paraphrase from the book, Lonesome Dove, 'he survived because he dealt with things as he found them...not as he wished they would be.' "—Peter J. Schoomaker, General, US Army (retired), former Chief of Staff of the US Army
About the Author
Robert Adolph is a retired UN Chief Security Advisor and US Army Special Forces Lieutenant Colonel. He holds graduate degrees in both International Affairs and Strategy. While in uniform, he successfully completed multiple global Special Forces, Military Intelligence, and UN Peacekeeping command and staff assignments. Following his retirement, he began a second career as a UN Chief Security Officer. He also taught courses in History, Government, and Foreign Affairs at American universities. He has lived and worked in fifteen different countries, and now lives in Rome, Italy.
Contact:
-New Academia Publishing
info@newacademia.com
202-391-1591
http://www.newacademia.com
-Author Robert Bruce Adolph, Robert_Adolph@yahoo.com
Print edition - Washington, DC: New Academia Publishing/ VELLUM Books, 2020  340 pages, 5 illustrations, ISBN 978-17333980-0-8, paperback, $28.00;
ISBN 978-17333980-4-6, hardcover, $38.00