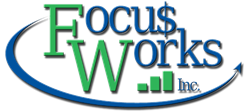 "Focus Works can provide total integrated plant solutions, helping wholesale bakery and food manufacturing plants reduce their waste and inventory losses and increase their production and most importantly obtaining perfect product quality."
PATCHOGUE, N.Y. (PRWEB) December 20, 2018
Drawing on its vast wealth of experience, over the years Focus Works has succeeded in establishing a foothold in the marketplace for food manufacturing and food safety software by becoming the "Corporate Standard" of many Blue-Chip Fortune 500 companies, such as Kellogg's, Stauffer's Biscuit (Animal Crackers) and others. Robert explores how far the firm has come over the years and the techniques it employs to ensure its ongoing success.
"Currently, Focus Works has more than 40 single plant customers and over 10 multi-plant customers which have a total of 54 plants. Our clients are concerned with improving their productivity, product quality, and decreasing their losses, also obtaining FDA lot traceability and food safety compliance. They are looking for systems with a quick return-on-investment to improve their bottom line. As such, our opportunity exists where there is a gap in the software presently being offered. The result is that companies requiring food manufacturing and food safety systems cannot obtain a cost-effective system, obtain accurate real-time inventory numbers, obtain a satisfactory return-on-investment and find a user-friendly, scalable system.
"Adapting and developing this system is central to our mission: to produce software solutions that provide a six month or less return on investment for plant automation processes. Focus Works can provide total integrated plant solutions, helping wholesale bakery and food manufacturing plants reduce their waste and inventory losses and increase their production and most importantly obtaining perfect product quality."
It is the firm's full-service offering, combined with its dedication to client satisfaction, that sets Focus Works apart from its competitors, as Robert highlights.
"In our industry, there are a few software suppliers for wholesale food and bakery businesses on the market, each with a myriad of features, some better than the others. Not many connect to the plant floor production equipment and line operations. However, we provide a uniquely comprehensive solution that has this ability and can handle raw materials receiving through processing and through shipping. This includes nutritional labelling and warehousing, and paperless food safety.
"Additionally, unlike our competitors we are not focused on selling hardware as our competitors. We bring our expertise in production control, food & baking and food safety. We can supply them with all of their software requirements. And these systems all work with each other. Each of our systems is modular and they can start off with just what you need and build upon it. One of our biggest attractions, not supplied by our competitors, is our 24/7 365 service and support. "Fundamentally, if any business in the food market is planning for company growth, they will want a supplier that can also work with their present and future needs, and that would be Focus Works."
Providing only the very cutting-edge of services and solutions, Focus Work's internal culture revolves around innovation and adaptation. Robert discusses how this benefits the firm's clients and staff alike and ensure the continued evolution of the company.
"Education and constant development of our team are central to our ongoing success, and as such Focus Works is committed to giving our teams the opportunity to flourish. Our culture is not only to learn our industry but also our customer's business. We don't want to be like the doctor that just prescribes the latest drug on the market. We want to be the diagnostic doctor that listens, analyses and prescribes the correct solution."
As he looks towards the future Robert is optimistic that Focus Works can continue to enhance its already impressive success and grow even further over the years ahead, as he is proud to conclude.
"Over recent years, RFID inventory and warehousing have become cost effective, and as such at Focus Works we have been starting to market and implement these systems. We are looking to further venture into international markets no later than 2019. Our software has multi-lingual capabilities and we are presently in Canada, Puerto Rico and Curaçao. We are also introducing a few new software models and systems. These exciting developments will ensure our ongoing success as we look towards a bright and exciting future."