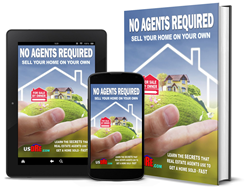 NEW YORK (PRWEB) November 17, 2020
The Us Directory of Real Estate, USDRE.com., today announced the launch of its No Agents Required book. This free book can be downloaded from NoAgentsRequired.com. This book reveals the secrets used by real estate agents to sell a home fast. Readers can learn how to sell their homes by themselves without using a real estate agent and without having to pay large commissions to the agents. No Agents Required is a comprehensive guide that can guide home sellers in the process of selling their properties.
When selling a property on their own, home sellers will be engaged in a process called For Sale by Owner, or FSBO in short. Nowadays, more homeowners are looking to sell their homes due to the financial problems caused by the current COVID-19 pandemic. In California, many homeowners are selling their houses and are moving to states such as Nevada, Texas, or Idaho where living conditions are much cheaper. Many of them are selling their homes using 21st-century technology such as USDRE.com. No Agents Required is here to guide people on how they can sell their homes fast and save money on paying real estate commissions.
Selling a home without a real estate agent is a good idea for some homeowners. No Agents Required offers an in-depth guide that homeowners can use to do a For Sale by Owner.
No Agents Required will show homeowners how to stage their homes, navigate sales contracts and real estate law, how to host open houses, being aware of predatory people, following up with buyers, selecting a title company, escrow, closing, everything an agent knows is in this book.
With the help of No Agents Required, home sellers in-depth on topics like how to properly price their properties. When appraising their homes, home sellers should consider several aspects like the neighborhood, age of the property, size of the property, and improvements. The prices of recently sold similar properties in the same neighborhood can help home sellers determine the price of their properties. When selling a home, a brochure is important. Homeowners can use a program to design their own brochures or they can buy a template from various sites. Any good home selling brochure contains a contact name, phone number, a great photo of the house, and details about the listing. Listing a property for sale can take some time. To reach the widest number of buyers, a home seller will have to list its property on multiple real estate search engines.
No Agents Required reveals the secret of generating buzz around a home. It takes a huge amount of effort to organize a home for sale. However, a well-executed series of events can generate excitement about the home and potentially lead to an offer. In the light of the COVID-19 pandemic, the ways of showing a house have changed. To keep both the sellers and buyers safe, they must follow some rules. That means they will have to be equipped with the proper virus-containment items, such as disposable gloves, masks, hand sanitizer, and shoe covers, when they enter a house. The alternative is to organize a virtual 3D house tour. Home sellers can request help from a professional or they can use an app to create their 3D house tour.
Negotiating the selling price is the hardest part for homeowners that sell their properties without an agent. No Agents Required reveals the best strategies that can help home sellers get top dollar when selling their properties. When selling a property, most sellers are using the services of a title company. Title companies provide title insurance services, escrow services, and closing services, allowing the sellers to get the deal closed with a single third-party vendor.
Selling a house without the help of a real estate agent is not impossible, but involves a lot of work. In many cases, a good agent can get a better price on a home sale and can do it faster and with less work. For anyone looking to sell their home by themselves, can read No Agents Required so they can gain the know-how they need to be able to sell their houses faster and for a better price than they could have before.