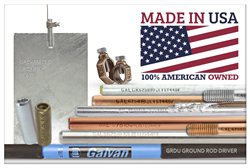 Galvan is 100% American owned, unlike many competitors.
HARRISBURG, N.C. (PRWEB) April 23, 2020
A global supply chain may be unavoidable for electrical wholesalers today for some products, but it is highly vulnerable to disruptions. With much of the world on lockdown, the coronavirus pandemic now is creating major problems for the industry, from production shortages to bottlenecks at seaports.
Galvan Industries offers wholesalers a shorter supply chain for ground rods, clamps and more, which reduces costs and risks. Galvan is 100% American owned, unlike many competitors. The Galvan products listed below are completely made in the USA from US materials. All Galvan ground rods are made in the company's own domestic production facilities.
The US-Made Galvan electrical product line includes:

Copper-coated ground rods
Solid copper ground rods
Galvanized ground rods
Stainless steel ground rods
Threaded copper-coated rods
Threaded stainless steel rods
Pigtail ground rods
Part #'s G-5 and SRC universal ground rod acorn clamps
Threaded and threadless couplings
Steel grounding plates
Ground rod drivers, and more
Having been designated as an "essential business", the company's plants are operating and products are shipping during the current coronavirus crisis. Galvan also continues to support wholesaler customers through stocking locations nationwide.
About Galvan Industries, Inc.
For 60 years, Galvan Industries has been a trusted supplier of electrical grounding products used residential, commercial and industrial applications, including construction, cable TV, lightning protection, power generation, telecommunications and OEM markets.
Galvan products are stocked at strategic sites around the country to assure fast deliveries. To learn more, or to place an order, contact Galvan Industries at (704) 455-5102, fax (704) 455-5215; email sales@galvanelectrical.com or visit Galvan on the Web at http://www.galvanelectrical.com.