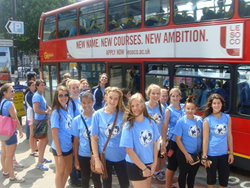 It's an honor that the US Marine Corps would choose us to train their young men and women for this basketball camp out of a competitive list of applicants.
SAN RAFAEL, Calif. (PRWEB) August 01, 2018
After 5 consecutive years of offering basketball camps in Bangkok, Thailand, NBC Camps will now be offering a camp in Iwakuni, Japan, our second camp location in Asia. This camp will be held August 13 – 17 at the Iwakuni U.S. Military Base for boys and girls. Camp will run from 9 am to 4 pm each day and will be open to 75 campers. This camp will now mark the 8th country NBC Camps runs and conducts basketball education and leadership training.
NBC Camps Complete Skills Basketball Day Camp focus on improving fundamentals, with a balance of both skill work and live play. Organizers at the military base reached out to NBC Camps to provide leadership and training for their students.
Jessie Craig, Thomas Jones, and Wallace Ungwiluk are some of the featured coaches at the Iwakuni camp. Jessie Craig has coached at five of the North American NBC camp locations, as well as our camp in Bangkok, Thailand. Thomas Jones has been a coach for NBC Alaska for the past two summers and he is excited to instruct at NBC's debut camp in Japan. Wallace Ungwiluk was mentored by the NBC Camps founder, Fred Crowell, and has instructed at NBC Camps in both Alaska and Spokane.
NBC Camps Founder and President Fred Crowell says,"It's an honor that the US Marine Corps would choose us to train their young men and women for this basketball camp out of a competitive list of applicants. They selected NBC Camps because of our extensive character development curriculum, fundamental intensity and the quality of our training program."
About NBC Camps
NBC Camps began in 1971 as Northwest Basketball Camp and has undergone a name change as NBC has expanded outside of the Northwest and outside just training basketball. NBC now means Nothing Beats Commitment and the philosophy that wisdom and hard work make for success. NBC Camps are located in 8 countries and run over 250 camps, travel teams, clinics, academies and other sports educational programs. For more information about NBC Camps visit http://www.nbccamps.com
About US Sports Camps
US Sports Camps (USSC), headquartered in San Rafael, California, is America's largest sports camp network and the licensed operator of NIKE Sports Camps. The company has offered summer camps since 1975 with the same mission that defines it today: to shape a lifelong enjoyment of athletics through high quality sports education and skill enhancem