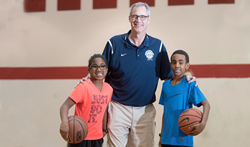 Looking forward to getting back on the court for our 59th year!
SAN RAFAEL, Calif. (PRWEB) February 25, 2021
Todd German, who attend the McCracken Basketball Camps as a child, brings over 40 years of coaching experience and working with youth. These day and overnight camps are for boys and girls and will be offered in Indiana, Michigan, and Wisconsin.
"Looking forward to getting back on the court for our 59th year!" says Todd German, "with the addition of two new locations in Albion and Angola, and five additional new camp sessions, we are going to have a banner year with our campers."
The McCracken Basketball Camps were founded in 1963 by Indiana University's Hall-of-Fame Coach, Branch McCracken, and have always been dedicated to teaching young athletes ages 7-18 the skills necessary for success. Over the course of camp, campers will learn fundamentals and build on existing skills through a mix of drill stations, technical footwork instruction, scrimmages, and fun competitions.
What sets McCracken Basketball Camps apart are the coaches who work hard to connect with each camper and make them feel welcome. "Coaches took time to get to know something unique about each player and their style of play, which we loved," says one parent of a Whitmore Lake High School day camper. "They were able to connect with my son James and he valued their feedback as a result… I was nervous sending James to this camp as he has been disappointed after attending other camps, but the McCracken Camp did not disappoint!! In fact, it was worth the hour and a half drive and hotel stay just to attend. Hats off to the coaching staff! You are helping kids become better players and humans. Great work!"
Another parent of an overnight Goshen College camper said," My children were so happy, excited, and sore from camp. They wish they could attend it again this summer. It is definitely one of their childhood summer highlights that they will always remember. They enjoyed developing new friendships and meeting new people the most."
To join in the fun this summer players, coaches, and parents can visit McCracken Basketball Camps, call 1-800-645-3226, or email mccracken@ussportscamps.com.
About US Sports Camps
US Sports Camps (USSC), headquartered in San Rafael, California, is the world's largest sports camp network and the licensed operator of Nike Sports Camps. The company has offered summer camps since 1975 with the same mission that defines it today: to shape a lifelong enjoyment of athletics through high quality sports education and skill enhancement.