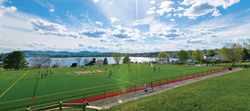 Brewster Academy will be a great location for these players to not only have fun but learn a lot as well.
SAN RAFAEL, Calif. (PRWEB) February 10, 2020
Nike Field Hockey Camp at Brewster Academy is located in Wolfeboro, a popular tourist area, and will directed by the Head Field Hockey Coach, Teraysa Noyes.
Brewster Academy sits about 0.5 miles along the shoreline of Lake Winnipesaukee and has six lakeside athletic facilities players use for competition and practice. They also have state-of-the-art athletic complexes that includes an indoor running track and spin room for students to use freely. The newest Nike Field Hockey Camp will allow campers the opportunity to utilize these top-notch facilities during camp.
"We are very excited to be expanding into New Hampshire," exclaims Liz Tellez, Manager of Nike Field Hockey Camps. "We are always looking for ways to provide more opportunities and grow the sport of field hockey. Brewster Academy will be a great location for these players to not only have fun but learn a lot as well."
The New Hampshire field hockey camp will be offered as an All Skills program, welcoming girls of all ability levels. Players can choose to either stay on campus or attend as a commuter. Under Noyes's instruction, players will undergo various drills that will focus on the fundamentals of field hockey as well as the defensive and offensive aspects of the game. During the week athletes may experience video analysis, mental toughness training, and cardio training sessions in Brewster's on-site spin studio.
This new camp is set to run June 24-27 and is open to girls ages 10-18. As a partner camp of USA Field Hockey, this camp is sanctioned to make referrals to the USAFH Futures program.
Players, coaches, and parents interested in the program can visit Nike Field Hockey Camps at http://www.ussportscamps.com/fieldhockey or call 1-800-645-3226.
About US Sports Camps
US Sports Camps (USSC), headquartered in San Rafael, California, is America's largest sports camp network and the licensed operator of Nike Sports Camps. The company has offered summer camps since 1975 with the same mission that defines it today: to shape a lifelong enjoyment of athletics through high-quality sports education and skill enhancement.