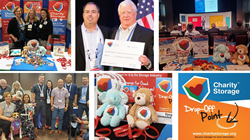 SAN CLEMENTE, Calif. (PRWEB) March 26, 2020
US Storage Centers is honored to continue supporting Charity Storage as an Angel Sponsor with a charitable donation of $10,000. This donation will go towards supporting auctions that enable the organization to thrive and extend its outreach throughout the industry. Barry Hoeven, founder of Westport Properties, Inc. and US Storage Centers, was the co-founder of Charity Storage and served as Chairman on the Board of Directors until his untimely death from kidney cancer in June 2016.
"Although Barry is no longer with us, his passion for giving back to the community is still deeply rooted in Westport's culture," said Mike Brady, COO at Westport Properties. "Our team is focused on making a difference and it is evident by what they have been able to accomplish. Charity Storage allows our team to give back while they are at work, and what they are doing is benefiting a lot of people."
Hoeven was passionate about giving back to the communities served by the self-storage industry. 60% of auction funds raised by companies other than US Storage Centers go to a charity selected by the facility. The remainder is divided among Kure It Cancer Research (20%), the Self-Storage Association Foundation Scholarship Program (10%) and Charity Storage (10%).
About Charity Storage and Opportunities
The Angel (Closed & Exclusive Category), Benefactor ($10K+/Year), Guardian ($5K+/Year), Sustainer ($3K+), Supporter ($500K+), and In-Kind Sponsorships enable Charity Storage to distribute 90% of all auction proceeds to qualifying charities. These donations also make it possible for the non-profit to continue the necessary outreach to increase facility enrollments, enhance brand visibility and recognition, and to promote Charity Storage to the public at large. This puts Charity Storage in an optimal position to continue to help the self-storage industry give back to the communities they serve through Charity Storage Auctions. The Sponsors receive widespread acknowledgement for their support, including press releases, recognition on the Charity Storage website, in the quarterly Connections Newsletter, and as well as digital, social, and print media.
To learn more about the Charity Storage Giving Back Program, please visit us at http://www.CharityStorage.org.
About US Storage Centers
Founded in 1985, US Storage Centers is an owner-operator of self-storage facilities across the country. The Company is a fully integrated operator that develops, acquires and manages its portfolio—additionally, the Company provides third-party management services. As of March 2020, it has over ten million rentable square feet under management and employs approximately 400 people nationwide. US Storage Centers is a founding partner of the 501(c)3 Kure-It, a non-profit organization that raises money for underfunded cancer research, and Charity Storage, a 501(c)3 that uses vacant storage units to raise money for local charities. To date, Kure-It has raised over $9M and Charity Storage has raised over $500K.