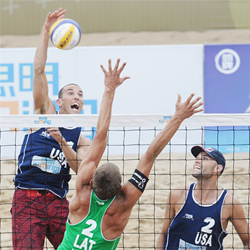 Phil's decision to play with Nick has quickly turned into gold to no ones surprise. Phil and Nick coupled with Casey Patterson and Jake Gibb make up the most marketable athletes going into the Rio Olympic Games.
Cary, NC (PRWEB) September 30, 2015
Olympic Gold Medalist Phil Dalhausser and partner Nick Lucena traveled to Xiamen, China for the FIVB Beach Volleyball World Tour Xiamen Open from September 23-26. After consecutive runner-up finishes in the previous 2 FIVB events, the pair played their way to the top of the podium over Germany's Markus Böckermann and Lars Flüggen 2-0 (21-16,21-17).
The 2015 Xiamen Open title is Nick Lucena's first career FIVB title after being considered one of the best defenders in the world for the last several years. Veteran Phil Dalhausser has now tallied an unprecedented 30 career world titles on the FIVB circuit. He is the only men's player on the FIVB World Tour with at least 1 FIVB title victory in each of the last 10 years.
PMG Sports President and CEO Evan Morgenstein said," When Phil came to me and brought up the possibility of playing with Nick, my original concern was the short window to qualify for the 2016 Olympic team. I would say based on the initial performance of this new team, Phil's vision, like most everything else he does on the beach, continues to turn up gold for him. With the excitement of beach volleyball in Rio and PMG managing the 2 best men's teams (Casey Patterson/Jake Gibb), we are already fielding calls from Olympic and non-Olympic sponsors about working with these great athletes."
This important international victory comes in just their 4th FIVB event since joining forces as playing partners in mid-August. With the 2016 Summer Olympic Games in Rio de Janeiro, Brazil less than a year away, Phil Dalhausser and Nick Lucena are quickly becoming one of the most dominant forces on the beach for USA Volleyball and an odds-on favorite to make the 2016 Rio Olympic team. Dalhausser and Lucena will join Patterson and Gibb at the next FIVB World Tour stop this week in Ft. Lauderdale, the Swatch FIVB World Tour Finals.
As 2015 comes to a close, both Dalhausser and Lucena are looking for corporate partners to join their team in preparation for the Summer Olympic Games next year. For sponsorship opportunities, please contact Evan Morgenstein at evan(at)pmgsports(dot)com or call (919)459-5426. For media inquiries please contact Matt Uberseder at matt(at)pmgsports(dot)com or call (919)459-5428.
About Premier Management Group (PMG Sports)
Premier Management Group is an elite sports marketing agency with a goal to create a space in the industry that is completely unique through superior creativity and innovation. PMG has set out to provide each of its clients with the same level of professional representation and service. Additionally, PMG is an industry leader in providing corporate consulting services and treats each client, whether an athlete or corporation, with an added personal touch. For more information, visit our website at http://www.pmgsports.com.