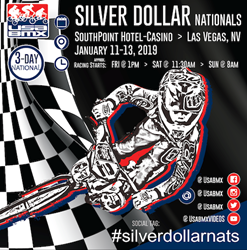 LAS VEGAS (PRWEB) January 11, 2019
Who:  
The 2019 BMX Racing season kicks off this weekend in Las Vegas! South Point Hotel and Casino will host the indoor racing competition with hundreds of amateurs and pros competing from all over the country including local A-pro and track operator Makieva Hopson who juggles dual roles as a rider and running the Whitney Mesa BMX track in Las Vegas. While Las Vegas local Connor Fields, 2016 Olympic gold medalist, won't be competing this weekend, he will continue to be part of USA BMX's STEM program called "After School All-Stars (ASAS)". The program is equal parts education (Science, Technology, Engineering, and Math), athletics and exercise.
According to Jodi Manzella, executive director of After-School All-Stars Las Vegas, the BMX STEM class is a brand new program added at Brinley Middle School this year.  "We are very pleased with how the students are responding to the program, and we are simply thrilled to have the support of Connor Fields. For our students, many of whom do not have the means to participate in sports like BMX, this class offers the opportunity to learn and exercise in ways they probably have never considered."   
When: 
Fri, Jan 11; Races begin at 1pm
Sat, Jan 12; Races begin at 11:30am
Sun, Jan 13; Races begin at 8am
Where: 
South Point Arena and Equestrian Center; 9777 S Las Vegas Blvd;
Las Vegas, NV 89123
Tracks in the Las Vegas area: Nevada boasts 8 tracks in these cities for young riders to get their start in BMX Racing: Boulder City, Carson City, Ely, Fernley, Henderson, Las Vegas (2), Sun Valley.
Social Tag - #silverdollarnats
BMX Racing League:
Ed Fountain Park BMX
Open House - Feb 25
League - Registration ends March 11
For more info - http://www.bmxracingleague.com
About BMX Racing: BMX Racing League invites new families to learn how the sport works, and riders to progress gradually, riding only with other beginners. At this level, the focus is on fun, developing bike handling skills, spending quality family time, and meeting new friends. In addition to all instruction & racing, each BMX Racing League season includes a League jersey, number plate, end-of-season award & pizza party, as well as access to loaner bikes & helmets.
About USA BMX: Founded in 1977, the American Bicycle Association (ABA) is the world's largest BMX racing organization with over 70,000 members racing at more than 300 sanctioned tracks across North America.  United States operations are conducted under the brand USA BMX and Canadian operations are known as BMX Canada. 
For more information visit http://www.usabmx.com.