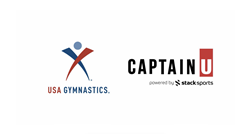 "This partnership with USA Gymnastics, which allows us to provide our profiles free to athletes, will provide immediate relief to families going through this process." - Jeff Brunsberg, Stack Sports
INDIANAPOLIS (PRWEB) August 11, 2020
USA Gymnastics today announced it will make Stack Sports' CaptainU collegiate recruiting platform available to all members through a partnership with the sports software innovator.
"We are thrilled to provide our community members access to this valuable resource, which will help to streamline the collegiate recruiting process, allowing athletes and their families greater autonomy and helping gymnasts connect with program representatives from across the country," said USA Gymnastics President and CEO Li Li Leung.
Through this partnership, USA Gymnastics athlete members will each immediately receive a CaptainU bronze recruiting profile, which will allow them to post skills and highlight videos, store academic information and search for college coaches to identify the programs that best suit them. Additionally, the CaptainU recruiting ecosystem assists college coaches in managing the recruiting process, identifying talent, and building championship teams.
CaptainU allows gymnastics athletes to take their recruiting experience to the next level, and most importantly, it simplifies the process. With the most comprehensive suite of online recruiting tools and hands-on assistance, CaptainU boosts athletes' exposure to college coaches.
"We are seeing a major shift in how athletes find great colleges, and we want to be there to help athletes navigate their recruiting process. This partnership with USA Gymnastics, which allows us to provide our profiles free to athletes, will provide immediate relief to families going through this process," said Jeff Brunsberg, Chief Revenue and Strategy Officer at Stack Sports. "Partnering with a great organization like this to make an impact is one of the best parts of working in youth sports."
Stack Sports and CaptainU have helped more than 3 million high school athletes, college coaches, club coaches and tournament directors improve their recruiting experience across sport.
About Stack Sports
With nearly 50 million users in 35 countries, Stack Sports is a global technology leader in SaaS platform offerings for the sports industry. The company provides world-class software and services to support national governing bodies, youth sports associations, leagues, clubs, parents, coaches, and athletes. Some of the largest and most prominent sports organizations including the U.S. Soccer Federation, Little League Baseball and Softball, and Pop Warner Little Scholars rely on Stack Sports technology to run and manage their organizations. Stack Sports is headquartered in Dallas and is leading the industry one team at a time focusing on three key pillars -- Play, Improve, and Engage. To learn more about how Stack Sports is transforming the sports experience, please visit http://www.stacksports.com.
USA Gymnastics
Based in Indianapolis, USA Gymnastics is the national governing body for gymnastics in the United States, encompassing seven disciplines: women's gymnastics, men's gymnastics, trampoline and tumbling, rhythmic gymnastics, acrobatic gymnastics, gymnastics for all (a.k.a. group gymnastics) and, most recently, parkour. USA Gymnastics sets the rules and policies that govern the sport of gymnastics, including selecting and training the U.S. Gymnastics Teams for the Olympics and World Championships; promoting and developing gymnastics on the grassroots and national levels, as well as a safe, empowered and positive training environment; and serving as a resource and educational center for the more than 200,000 members, clubs, fans and gymnasts throughout the United States. The organization is deeply committed to creating a culture that encourages and supports its athletes and focuses on its highest priority: the safety and well-being of athletes and our community.