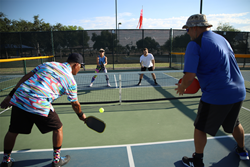 The New York Times has called pickleball the 'perfect pandemic pastime.'
PHOENIX (PRWEB) July 20, 2020
One of the hottest sports in America turns 55 years old this week – and has never looked better.
Created in suburban Seattle in July 1965, pickleball grew steadily across the U.S. in the ensuing decades. However, in the last 10 years its popularity has increased exponentially. Since 2013, the sport's governing body, the USA Pickleball Association, has seen membership increase more than 1,000% and there are now an estimated 3.3 million players across all 50 states. A 2019 survey by the Sports & Fitness Industry Association called pickleball "one of the country's fastest growing amateur sports." Pickleball is now played in 25 countries and being discussed as a possible future Olympic sport.
COVID-19 has further boosted the sport's appeal. A mix of tennis, ping pong and badminton, pickleball was called the "perfect pandemic pastime" by the New York Times, since its 20-foot by 44-foot court can easily be set up on driveways and at home, and its rules include a no-volley zone of 7 feet on either side of the net – keeping opposing players safely apart.
In response to the public's surging interest, USA Pickleball has launched a new, enhanced website –
usapickleball.org. In celebration of the 55th anniversary and to continue growing junior programs, for the next month 10% of proceeds from select USA Pickleball merchandise sales will go toward the non-profit organization's high school grant programs.
"Interest in pickleball has been unprecedented in recent years and people are searching for information on how to play, where to play, and just about everything else related to the sport," said USA Pickleball Executive Director Justin Maloof. "We are setting the stage for the future with a strategic plan and alignment to U.S. and International sports governing bodies, on pickleball's journey to Olympic recognition."
Pickleball is relatively easy to learn and attracts players of all ages due to its fun, social and friendly nature (2020 Fact Sheet). While it is commonly part of school physical education programs, it is also a staple in retirement communities, municipal park & recreation centers, paddle & racquet sports facilities and country clubs. Although the majority of players consider themselves "casual" participants, local, regional and national tournaments are held across the United States. Many of them are sanctioned by USA Pickleball, including the annual USA Pickleball National Championships at the iconic Indian Wells Tennis Garden in California.
B-roll, images, and additional information is available by request.
About the USA Pickleball Association
The USA Pickleball Association, a non-profit 501(c)(3) was established in 2005 to further the advancement of the sport on a national level. As the official governing body of pickleball in the United States, the USAPA promotes the growth of pickleball by maintaining the rules, setting player ratings, advancing the sport through its national network of 1,900+ ambassadors, and sanctioning tournaments. Since 2013, the USAPA has grown 1,000% in its membership which now exceeds 40,000. The USAPA is divided into 11 regions across the country with all 50 states being represented. The extensive group of volunteer ambassadors oversees the sport in their respective states. More information can be found at usapickleball.org.