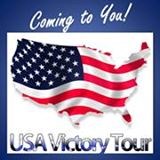 Diamond Bar, Calif. (PRWEB) October 16, 2013
Save the date this fall for the USA VICTORY TOUR with Jase Souder. Jase is touring the country bringing outstanding and entertaining business training to small business owners, entrepreneurs and commissioned sales people. The Elite Group has partnered with Jase to help local businesses make more money. Sales, Marketing and Mindset training with proven results is fundamental in creating strong business people. Strong businesses mean a strong local economy, and strong local economies mean a stronger state and ultimately a stronger nation. When America learns how sell, we can turn around the deficit and start selling to other countries.
"There are three key areas business people need to master," says founder Jase Souder. "The first is to be able to communicate on a subconscious level for masterful, ethical persuasion. Secondly you have to have the correct marketing so the right kind of people want to work with you. And the third thing is—you've got to break through your subconscious barriers to success."
The USA VICTORY TOUR launched in Salt Lake City, UT on September 11, 2013, and tours throughout the United States, ending in Los Angeles on November 13th, 2013. Local sponsors who want to serve their colleagues and community are offering this training to the public at no charge.
The USA VICTORY TOUR Sales, Marketing & Mindset training in Covina, Calif. will take place on Wednesday, Nov. 13 from 9:00 a.m. to 5:00 p.m. at 1211 East Garvey St, Covina, CA 91724. To register or for more information, please visit: http://events.r20.constantcontact.com/register/event?oeidk=a07e83rir3x98f86002&llr=gwfjyogab
ABOUT JASE SOUDER
Praised as a leader in authentic business Jase Souder is a nationally recognized speaker and trainer, specializing in public speaking and sales. Jase has appeared on national and local TV and radio and he's in the inspirational movies Pass It On and The Power of Coaching where he's featured along with Brian Tracy, John Assaraf, Rev. Michael Beckwith, Boxing Champion Evander Holyfield, Rudy Ruettiger, Les Brown and many of today's leaders.
Souder has been published in 8 books, 4 with co-authors such as Deepak Chopra, Anthony Robbins, and Mark Victor Hansen and four others focusing on the sales process.
Jase is an expert on influence, and the sales process including negotiating, personality types, NLP, reading body language, and closing techniques. Known as the Profit Launcher, Jase lives in Las Vegas.
What people are saying about Jase after attending one his training seminars:
"Jase is one of the best speakers I've ever seen! He is very real and authentic and committed to delivering way more than participants expect. I highly recommend you try one of Jase's life changing seminars!"
Alex S. – Danville, CA
"Jase is an amazing speaker coach and business development coach. Bringing his years of expertise, he is able to elicit the passion of his clients to transform their marketing, branding or business message."
Tara P. – Henderson, NV
"Jase is an amazing coach and an amazing human being. Some people have the gift of teaching complex material and making it seem simple and obvious. Jase is one of those people. Within 24 hours of our first session, I had a breakthrough and accomplished something I had been putting off for years! I give Jase my strongest endorsement. If you're in business and feel like you aren't accomplishing your goals, give Jase a call…he's the real deal!"
Darrin M. – Tampa, FL
About The Elite Group
The Elite Group has the strongest staff of home inspectors in Southern California - over 35 home professional inspectors with over 300,000 homes worth of experience. Combine that with a $1 million liability policy, the industry's leading home inspection report, and Appliance Recall reporting for life... and this is the best company to perform your home inspection on all accounts.
The inspectors at the Elite Group are held to the highest standards of professionalism and care. The Elite Group focuses on educating our clients on their brand new home. http://www.EliteInspections.com. Call now to book a home inspection - 800-494-8998.