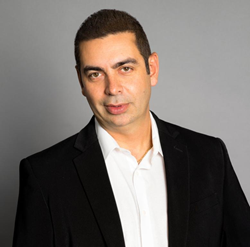 We are entering an exciting time in USARAD 12-year history. By bundling new technologies with low cost radiology devices via RAAS model, we are bringing unprecedented efficiencies to deliver faster, cheaper, better healthcare.
FORT LAUDERDALE, Fla. (PRWEB) December 01, 2020
USARAD Holdings Inc., the leading US Joint Commission Accredited teleradiology and telemedicine company announces during RSNA 2020 virtual conference issuance of a new utility patent. As a next-generation radiology and telemedicine company, USARAD embraces Radiology-as-a-service business strategy by leveraging new technologies such as AI and Blockchain in combination with novel ultra-low-cost ultrasound and digital x-ray-based imaging devices. USARAD expands its relationships with several technology partners including Nano-x Imaging Ltd.. USPTO issued patent # US10,803,985, "Method of facilitating Imaging Study Interpretations between Healthcare Facilities and Physicians Including Customization of Imaging Studies" on October 13, 2020. The patent, which was filed 2 years prior, is assigned to its partner, MDW.io, licensed to USARAD Holdings, and is a part of a patent portfolio with multiple additional pending patents.
The patent describes a unique decentralized method of matching radiologists with medical imaging facilities and AI companies. It also describes a method of conducting immediate financial transactions between all stakeholders to provide fast and efficient AI development and teleradiology workflow. The method includes receiving physician credentials from radiologists and imaging studies from healthcare facilities, request for interpretation of the imaging studies, annotation requirements of AI companies, physician selection criteria, access to the imaging study and request for interpretation or annotations to qualified physicians whose credentials match the physician selection criteria.
The patent and clinically validated, fully built-out MDW platform provide all participating stakeholders with a secure, simple and cost-effective way to conduct healthcare transactions. The platform offers an efficient way to harness the power of community to generate interpretations and consultations using blockchain technology. It enables any party, including referring physicians, radiologists, diagnostic facilities, as well as insurance companies to request interpretations from platform participants and through execution of smart contracts insure immediate payments to one or multiple parties, for example those who improve on the original interpretations.
Dr. Michael Yuz, USARAD's founder & CEO as well as one of the inventors of the above mentioned patent stated: "We are indeed entering an exciting time in USARAD 12-year history. By bundling new technologies with low cost radiology devices via RAAS model, including those powered by Nano-x' disruptive digital x-ray source (pending FDA approval), demonstrated at RSNA 2020, we are bringing unprecedented efficiencies to deliver faster, cheaper and better healthcare."
About USARAD Holding Inc
USARAD Holdings, Inc. is a global telemedicine company consisting of three operating divisions and has received funding from the Venture Capital Unit of Siemens, Omphalos Venture Partners and Excelerate Health Ventures. USARAD is a radiology services provider offering interpretations of a full range of sub-specialty and general radiology patient studies. With an existing advanced technology network connecting medical facilities to board-certified radiologists and support staff, USARAD offers radiology services in all 50 states as well as multiple countries. Via its unique Radiology-On-Demand® platform, USARAD is committed to providing timely and responsive image review 24/7. SecondOpinions.com® is a medical consultation and second opinions leader providing health care customers, physicians and consumers with expert opinions from all medical specialties and sub-specialties. To date SecondOpinions.com helped patients in more than 120 countries. CareDoctors.com, its newest division was established in 2020 at the peak of COVID-19 Pandemic. The goal of CareDoctors.com is to enhance patient care experience by offering live video consultations bundled with telepharmacy service with over 1,000 board certified physicians in all specialties in the safety of their home. For more information please visit http://www.usarad.com, http://www.secondopinions.com and http://caredoctors.com.