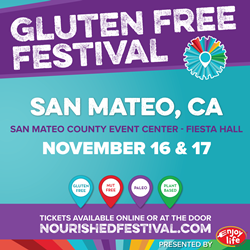 "From comfort foods to healthy lifestyle options, this festival truly offers something for everyone. An event of this scale being accessible to the general public is a rare and exciting way to explore new options and sample products before buying them in store." -Jen Cafferty, Founder and CEO
SAN MATEO, Calif. (PRWEB) October 16, 2019
Nourished: The Gluten Free, Allergy & Specialty Diet Festival, formerly The Gluten Free & Allergen Friendly Expo, is excited to return to the San Francisco area. The Bay Area stop of the Festival will return to San Mateo County Event Center, Fiesta Hall, November 16-17 2019.
In 2019, all Nourished Festival locations will provide expanded offerings to better accommodate the most popular food lifestyles. In addition to the existing Gluten-Free and Nut-Free zones, Paleo, Keto, and Plant-Based products will bring variety and educational opportunities to everyone living a gluten-free lifestyle. As in the past, all products at the festival will be gluten free.
At the Nourished Festival, attendees will have one-on-one moments with over 75 brands exhibiting the best products for food sensitivities, food allergies and specialty diets. The festival also provides the opportunity to sample and purchase products, meet founders, receive coupons and attend free educational presentations hosted by industry-respected speakers.
While all products at the Festival are gluten free, many exhibitors will also showcase products free from the top eight allergens - and beyond. The Nourished Festivals are managed by The Nourished Group, with a team fluent in gluten-free living, celiac disease, and food allergies - and the rising need to find safe and delicious food and lifestyle products for any specialty diet. Presented by allergen-friendly sponsor Enjoy Life Foods, this event is family friendly and ideal for anyone following a specialty diet lifestyle.
"Our festivals nourish the needs of the entire food community - whether its those with celiac disease, autism, autoimmune or inflammatory conditions or those committed to living a healthy lifestyle," says Nourished Festival founder, Jen Cafferty. "With comfort foods like pizza and baked goods to healthy lifestyle options like protein bars and probiotic drinks, this festival truly offers something for everyone. An event of this scale being accessible to the general public is a rare and exciting way to explore new options and sample products before buying them in store."
A sample of this year's exhibitors includes:

Tickets can be purchased in advance or at the door. A one-day ticket is $15 for adults and $5 for children at the door. Parking is $15 a day at the San Mateo County Event Center.
FOR MORE INFORMATION
Website: https://nourishedfestival.com/
To schedule TV/radio/print coverage, or for a complimentary press pass, contact Erica Dermer at erica@nourished.group.
ABOUT NOURISHED: THE GLUTEN FREE, ALLERGY & SPECIALTY DIET FESTIVALS
Managed by The Nourished Group, formerly The Gluten Free Media Group, Nourished: The Gluten Free, Allergy & Specialty Diet Festivals are the largest and fastest growing specialty diet consumer events in the United States. Started in 2007, the events have expanded from one city to multiple US cities including San Mateo, CA. The festivals cater to anyone looking to lead a healthier lifestyle or those who follow a modified diet due to food sensitivities, allergies or intolerances. Offerings including Paleo, Keto, Plant-Based, Gluten-Free and Nut-Free products. The events provide opportunities for attendees to sample and purchase new products, receive coupons, meet with brand ambassadors and attend educational classes with industry experts. For more information, visit their website or find them on Facebook, Twitter and Instagram.