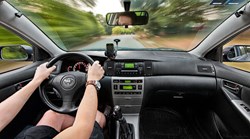 New relationships with automotive distributors has made all of the recent GM inventory enhancements possible for this year.
Sacramento, CA (PRWEB) January 12, 2014
A large percentage of GM created motors for Chevrolet vehicles are known globally for horsepower. The Got Engines company sells replacement Chevrolet engines online and is now including used LS3 engine units for buyers at http://www.gotengines.com/chevrolet/rebuilt-chevy-engines.html.
This arrival of the 6.1L motors is expanding the V8 inventory that is featured for the Chevy brand of vehicles. The Got Engines company is currently one of the largest independent sources to find original General Motors engines sold for discounted prices.
The LS3 Corvette series motors now available for sale are one phase of 2014 inventory modifications. Additional engine units were included this month for Camaro and Firebird vehicles. The complete LS engine series available in used condition is now featured for immediate sale on the GotEngines.com website.
"New relationships with automotive distributors has made all of the recent GM inventory enhancements possible for this year," said one source at the GotEngines.com company.
The LS3 6.1 used engines now for sale have joined the existing engines in stock that are now covered under multi-year warranty plans. The Got Engines company announced different warranty protection plans for its complete inventory online late last year. All acquisitions for engines made throughout this year are eligible for the expanded warranty program.
"The Chevrolet brand of automobile engines we're featuring online are enhanced with the new warranties and price levels for immediate benefit to buyers," the source included.
The GotEngines.com company has established new and improved research tools online for replacement motor buyers. The arrival of the LS3 and related engines are now updated in the inventory research system online. All engines that are stocked and shippable through this company are listed in this research system.
The freight policies, warranty programs and other incentives that are created strictly for U.S. buyers can now be discovered when using these automated locator tools online. The company number at 1-866-320-1065 is still use by a portion of engine buyers to find pricing data or to match VIN numbers before motors are purchased.
About GotEngines.com
The GotEngines.com company provides discounted automobile engines for American buyers online. This company has grown the online inventory of replacement motors in 2014 to new levels thanks in part to new relationships concreted with different suppliers. The GotEngines.com company customer service staff provide all of the solutions for support both offline and online. The limited warranty policies attached with every engine for sale is one of the new incentives created exclusively for U.S. buyers last year. All domestic and imported engines featured online are shipped without agency freight costs.