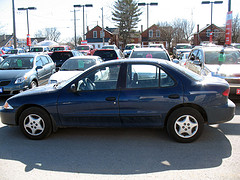 Through a network of domestic suppliers, we have been able to find resources for used condition Saturn four-cylinder engines that we are now adding to our web inventory
San Jose, CA (PRWEB) August 27, 2015
The Saturn vehicle brand was one of the best sellers for the General Motors company between 1989 and 2009 in the North American automotive market. The Used Engines Co. has made significant changes to its automotive parts inventory and is now able to include used Saturn car engines in 1.9L builds for the public at http://www.usedengines.co/saturn/saturn-series-engines.
The changeover to supplying these OEM units will satisfy the existing demand for I4 series motors used in Saturn vehicles. Because of the termination of the Saturn brand from GM, some consumers can experience a difficult time locating a good condition 1.9-liter block without going direct to a car dealership.
"Through a network of domestic suppliers, we have been able to find resources for used condition Saturn four-cylinder engines that we are now adding to our web inventory," one rep from the Used Engines Co. said.
The used 1.9L engines now available for sale and distribution will be protected through a distributor warranty policy. Consumers who are used to paying extra money to receive a one-year or two-year coverage option will be able to benefit from the no charge plans of coverage now supplied at the time of order.
"The Saturn S and luxury editions that utilized the 1.9L I4 motor is supported under our warranty plan that we have negotiated with our engine suppliers," added the rep.
The UsedEngines.co website was redesigned this month with a new logo, pricing tool and customer contact form. Consumers may now use the updated contact form to make an immediate inquiry about pricing or shipment information to the continental U.S.
About UsedEngines.co
The UsedEngines.co company is now promoting a larger inventory of GM company products in second hand condition for consumers to review or purchase on the web. The company is also connecting with various salvage yards across the United States to acquire consumer inventory. The UsedEngines.co website now displays the brand new toll-free service number consumers can use to inquire about company pricing or related services.