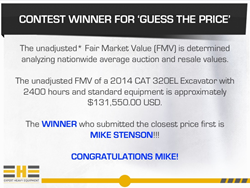 League City, Texas (PRWEB) November 06, 2016
Today, Expert Heavy Equipment (EHE) announces the winner of their 'Guess the Price" Facebook contest.
"We had a great participation from our robust online heavy equipment community; however, the individual whom responded the quickest with the closest price was Matt Stenson from Montana. Matt received a $50 e-gift card from Bass Pro Shop.
"I was not surprised about the diversity in the pricing that was submitted. It reaffirms that individuals don't have the market data readily available to understand the used equipment market pricing." said Milissa Wise, Director of Operations for EHE and a Marine Corps Veteran.
Wise explained that currently there is not a standardized resource for assessing the value of heavy construction or farm equipment for the general public. This means that most individual owners and companies become dependent on the appraiser, dealership or broker to provide them with a value.
"Expert Heavy Equipment offers a free pricing report that provides third party market data validating the current unadjusted fair market value on equipment based on general details of the machine," Wise pointed out. "Our objective in doing this is to bring a higher level of transparency to the marketplace."
Wise stressed that its market pricing service helps to provide the seller and or buyer negotiating power.
Wise explained that creating this contest will help raise the level of awareness concerning the need for transparency in used equipment pricing which will undoubtedly help to provide the seller and or buyer the negotiating power they need to make the best decision.
For more information on future contests please visit: Expert Heavy Equipment's Facebook Page.