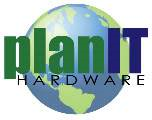 With planIT's consignment deals, everyone wins.
Smyrna, GA (PRWEB) April 08, 2014
planIT HARDWARE announces today that it will now be offering consignment services as part of its business model moving forward. The used Cisco reseller adds this to its growing list of services and is ready and available to take on new clients.
"Consignment deals are great for equipment owners that have a wide array of decommissioned hardware," says planIT HARDWARE founder and owner Paul Hogg. "These individuals may not have the ability or time to research all of their equipment's worth on the secondary market, take individual offers on each piece of hardware, box it up, and then ship it out to a plethora of different buyers. planIT can take responsibility for auditing those assets and determining fair market value for each one. We then use our sales channels to remarket those assets for maximum value. Not only does that save the owner time and energy, but it also generates more cash back in the long run than if they had sold their equipment for upfront cash. With planIT's consignment deals, everyone wins."
Consignment and asset recovery deals have allowed the network hardware provider to expand its inventory and effectively offer further solutions to those looking for quality network equipment at a discounted price. Asset recovery will monetize the assets of defunct investments for creditors and business owners, providing them with a solution that either securely repurposes or damages and recycles their goods. This service will benefit both the company itself and businesses that are refreshing their tech or are involved in a merger, for example.
There are many benefits to these consignment deals for everyone involved, including cut costs and reduced risk. Asset recovery protects an organization's data privacy and reputation and saves the environment from e-waste hazards, such as lead, mercury, and cadmium. Items must be either properly destroyed or, if they are salvageable to use again, properly 'sanitized.'
The company will be working with businesses across various industries including Banking/Finance, Telecom, Power & Energy and Network Construction, to name a few. In addition, individuals who have gear to sell can get in touch with the company to see if it can help in the brokering and selling process.