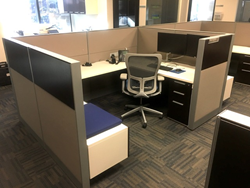 DALLAS (PRWEB) February 05, 2019
It's no secret that the new government tariffs have affected many industries, and the office furniture industry has been hit particularly hard. Many office furniture manufacturers have seen steady price increases between 2018 and 2019. Some by as much as 20%. With this abrupt inflation, many consumers are flocking to save money while growing their companies. This is where UsedCubicles.com steps in.
"As soon as I heard news of the tariffs in China, I knew this was going to hit home for some major manufactures,"said Grant Jones, CEO of UsedCubicles.com. "We immediately went to work preparing for the coming surge of buyers, scooping up inventories from everywhere, thousands of cubicles worth. We reinvested in our marketing and website to make it easier to browse our extensive inventories, and added additional warehouses strategically located to ship anywhere in the United States. Doubling down before the storm hit was key. This allowed us to keep our prices the same, while the price of new office furniture and cubicles rose. In addition, we've been able to procure some of the nicest inventories I've seen in a while. Some of these cubicles were never even sat in."
Used office furniture and used cubicles have always been on the cusp of mainstream, taking a backseat to the plethora of large furniture manufacturers. However, in the past few years, UsedCubicles.com has seen explosive growth, year over year. They believe a new generation of business owner is emerging. One that's more price driven, earth conscience and business savvy. You can't spend every dime you make, and you must save for slower times. Buying used cubicles is just good business. Smart business.