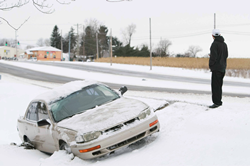 "During winter, drivers should carefully check if the car is running properly before hitting the road", said Russell Rabichev, Marketing Director of Internet Marketing Company.
LOS ANGELES (PRWEB) January 21, 2019
Compare-autoinsurance.org has launched a new blog post that explains to drivers how to properly take care of their cars during winter. Keeping the car in good shape will make the ride safer,
Having a car running in optimal conditions will help drivers avoid accidents. Insurance companies prefer working with safe drivers, who were not involved in accidents for multiple consecutive years. In order to keep the car in good shape and save car insurance money, drivers should do the following during winter:

Check the battery. Negative temperature can severely reduce batteries charging capacities. At 0 degrees, batteries lose even 60 percent of their power. Ask a local service to perform the tests. If the battery is more than four years old, it is recommended to replace it.
Check the brakes. When driving on icy or snowy roads, having working brakes is extremely important. Check the brake system, including brake linings, rotors, and drums.
Check the tires. Ensure that tires have plenty of pressure and that the thread depth meets the state's legal limit. Consider investing in a set of winter tires that are built for superior traction and handling on icy and snowy roads.
Inspect the windshield. Look for cracks on the windshield. Repair any crack found. Also look at the wiper blades. If the wiper blades are overused, buy a new one. Also replace the regular washer fluid, with one that is rated to resist subfreezing temperatures. Furthermore, check if the defroster is in working condition, to assist at maintaining visibility.
Replace coolants. The ideal all-weather mixture of coolant and water is 50/50. During the winter, however, a mixture of 60/40 is more recommended, and in extremely cold winter conditions, the coolant and water ratio can be 70/30.
Change the oil. During the winter use a special thinner oil, that doesn't thicken as much as regular oil.
For additional info, money-saving tips and free car insurance quotes, visit https://compare-autoinsurance.org/
Compare-autoinsurance.org is an online provider of life, home, health, and auto insurance quotes. This website is unique because it does not simply stick to one kind of insurance provider, but brings the clients the best deals from many different online insurance carriers. In this way, clients have access to offers from multiple carriers all in one place: this website. On this site, customers have access to quotes for insurance plans from various agencies, such as local or nationwide agencies, brand names insurance companies, etc.