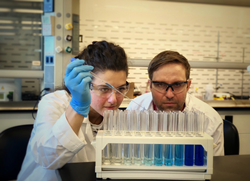 We are elated to join the Incubator. This will enable us to significantly accelerate our neuromodulator pipeline and drug formulations into clinical development.
TAMPA, Fla. (PRWEB) August 11, 2020
Psilera Bioscience ("Psilera") has joined the Tampa Bay Technology Incubator, part of USF Connect (together the "Incubator") at the University of South Florida ("USF"). The Incubator allows access to laboratories and fosters collaboration within the university to expedite developments toward commercialization.
The co-founders of Psilera, Drs. Jackie Salm and Chris Witowski, both earned their doctoral degrees in natural products chemistry from USF and now call the university home for their new biotechnology startup specializing in the clinical development of psychedelic analogues.
"As USF alumni, it is exciting for us to have the opportunity to work together on cutting-edge research in drug discovery and neurological health," said Dr. Salm, CSO of Psilera. "It's the ideal setting to maximize our research capabilities by utilizing state-of-the-art facilities and instrumentation."
A research powerhouse, USF has received 'Preeminent' status ranking among the highest in the nation for academic research funding and in the top 10 annually with awarded patents. The university includes several multi-disciplinary centers for excellence and boasts unrivaled core facilities like the Chemical Purification and Screening laboratory to advance pioneering research. Neuroscience remains a primary focus of the university that includes leading researchers in mood, addiction, and cognitive disorders within Byrd Alzheimer's Center and Research Institute. The Incubator hosts several biotechnology companies and is expanding with construction of new facilities already underway within USF Research Park.
Psilera will engage research faculty and university talent pools while receiving mentorship in relation to business objectives and milestones as part of the Incubator. "We welcome Psilera as we continue to support exciting startup companies in achieving their goals," said USF Connect Program Director, Shannon Pastizzo.
"We are elated to join the Incubator," summarized Dr. Witowski, CEO of Psilera. "This will enable us to significantly accelerate our neuromodulator pipeline and drug formulations into clinical development."
About Psilera Bioscience - Psilera Bioscience is a psychedelic-based biotechnology company developing its proprietary neuromodulator pipeline to target central nervous system disorders. Psilera leverages research strengths with executives from the pharmaceutical and cannabis industries to repurpose psychoactive natural products as building blocks for next generation therapies to improve mental health.