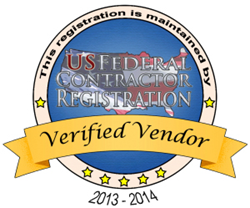 Orlando, FL (PRWEB) August 31, 2013
US Federal Contractor Registration is currently reporting a high number of contracting opportunities posted to FedBizOpps for the state of Louisiana. There are currently over 162 available solicitations up for bid. Only properly registered government contractors are allowed to submit their bids to win these contracts. Contracting officers in the state of Louisiana have already awarded registered contractors almost $2 billion during the 2013 fiscal year, with a total of 51,804 transactions. So far, the federal government has spent over $282.01 billion on contracts in 2013 to date. With all the available bidding opportunities, US Federal Contractor Registration suggests businesses become registered properly in order to bid on these awards.
Since Phase 1 of System for Award Management (SAM), US Federal Contractor Registration (USFCR) has migrated previously registered contractors from CCR to SAM to make sure their business continues to qualify for government contracts and federal set-asides. USFCR is the world's largest third party registration firm, which continues to migrate thousands of small businesses into SAM. This is all in an effort to increase small business involvement in government contracting. The Federal Government has mandated by law that 23% of all prime contracting dollars are to be awarded to registered small business government contractors. According to USAspending.gov, in 2012 over $500 billion worth of government contracts were awarded to businesses. The federal marketplace for government contracting has an enormous amount of opportunities for registered small businesses. USFCR makes sure that small businesses are properly registered in SAM in order to be approved for small business contracts and simplified acquisition contracts.
To help small businesses avoid costly errors, US Federal Contractor Registration is offering an evaluation and review of a vendor's government registration. During the evaluation, a Placement Specialist will review the company's government contractor registration to ensure it is complete, contains the correct information, and is optimized to help them win government contracts. To receive this evaluation, interested businesses should contact the Contractor Helpline at (877) 252-2700 ext 1. Placement Specialists can also prepare a government contracting profitability assessment to help business owners review government spending trends within their industry and identify current contracting opportunities.