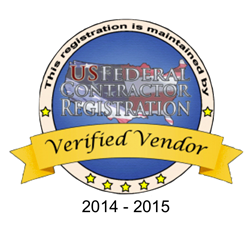 Washington D.C. (PRWEB) June 16, 2014
US Federal Contractor Registration, the world's largest third party registration tracked down the top Woman Owned Small Business contracts in Oregon posted to FedBizOpps in the month of June for 2014. US Federal Contractor Registration has helped WOSBs win these types of federal set-aside contracts for years. US Federal Contractor Registration has tracked down the top WOSB government contracts in the state of Oregon and they are as follows:
Parker Creek Bridge Construction
Solicitation Number: L14PS00379
Agency: Department of the Interior
Office: Bureau of Land Management
Location: Oregon Region
70--SanDisk Extreme Pro Compact Flash Memory Cards
Solicitation Number: PMEL-14-00763
Agency: Department of Commerce
Office: National Oceanic and Atmospheric Administration (NOAA)
Location: Acquisition and Grants Office
Businesses that are interested in learning more about the WOSB contracts listed above can call (877) 252-2700 Ext 1 to speak with a Acquisition Specialist at US Federal Contractor Registration to start the bidding process. Businesses that are interested in becoming properly registered in the mandatory federal database System for Award Management (SAM) and start bidding on these contracts can call the listed number or go to the SAM Online Registration page.
US Federal Contractor Registration has registered over 60,000 private sector businesses in the SAM registration some of which include McGraw Hill, HP, Wells Fargo, Xerox, GoodWill, Dixie, UPS, Heinz, Sheraton Hotels, Marriott, Westin, Interstate Oil, CITI, and Coldwell Banker. As well as academic institutions and colleges like NYC, Northwestern, Oxford, Southwestern, and Mercer. Numerous federal agencies like US Army, US Navy, Veteran Affairs and United States Department of Agriculture have also had their government paperwork facilitated by US Federal Contractor Registration Case Managers.