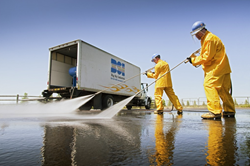 Washington D.C. (PRWEB) November 14, 2014
Since June of 2013, WWSS Associates Inc DBA Big Sky Industrial has been a Woman-Owned Verified Vendor with US Federal Contractor Registration. Shortly after registering their business in System for Award Management (SAM), Big Sky Industrial began their enrollment into the Simplified Acquisition Program. In the year and five months enrolled into the Simplified Acquisition Program, Big Sky Industrial has been awarded three government contracts totaling $184,984.
Big Sky Industrial was assisted by US Federal Contractor Registration Acquisition Specialist Peter Lanore in deciding that the Simplified Acquisition Program was the best choice for their business. Peter Lanore conducted a Federal Marketplace Evaluation for Big Sky Industrial that found available contracting opportunities, previously awarded contracts in their industry by agency, the federal competition rate according to their region and industry, and federal spending trends. After the Federal Marketplace Evaluation was completed, it was recommended that the Simplified Acquisition Program would be the best marketing strategy for their business model to provide marketing advantages designed to help win contracts.
There are currently thousands of available woman-owned government contracts on federal bid boards like FedBizOpps. There are also other non-posted federal solicitations called simplified acquisition contracts that can be awarded directly to registered woman-owned contractors from Procurement Officers. According to the Federal Procurement Data System (FPDS) in Fiscal 2013, 250,504 contracts were awarded to registered woman-owned government contractors totaling $15,364,844,129.49 in federal spending. By that math, the average woman-owned federal contract awarded in Fiscal 2013 was for $61,335.72.
Woman-owned small businesses (WOSBs) have an enormous market in government contracting. Since the signing of the Defense Authorization Act of 2013, WOSBs now have uncapped contracting potential for government contracts being awarded to their business type. Thanks to the Small Business Act of 1953, WOSBs must be awarded at least 5% of the overall United States Federal Government contracting budget each year. WOSBs have limitless opportunities in government contracting due to congressional support, and the need for diverse and fair contract spending.
Big Sky Industrial is a Washington based Woman-Owned Small Business (WOSB) that has been operating since 1908. They specialize in heavy-duty industrial cleaning and is extremely convenient due to their 24/7 availability. Their equipment and expertise offer a full range of unique services such as wet and dry vacuuming, transporting of material, tank cleaning, sewer line cleaning, hydro-excavating, pipe line cleaning, high-pressure water blasting, dry ice blasting, closed-circuit video inspection, mud and slurry pumping, spill response and site clean-up services. Big Sky Industrial has over 30 years of experience at pulp and paper mills, power and generating plants, refineries, municipalities, pipelines, and aluminum fabrication plants. With the help of US Federal Contractor Registration, Big Sky Industrial was able to unlock their true potential in government contracting and find success in the federal marketplace that was previously unknown.
Businesses that are interested in enrolling or learning more about the Simplified Acquisition can call Peter Lanore at 1(877) 252-2700 Ext 751. Peter will discuss the qualifications of the Simplified Acquisition Program and discuss the WOSB registration process for businesses looking to register their woman-owned business with the Federal Government.