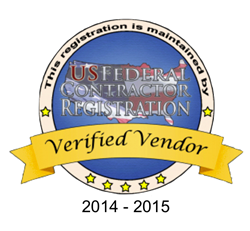 Washington D.C. (PRWEB) November 25, 2014
DLP Enterprise has been a certified Verified Vendor with US Federal Contractor Registration since April 2013. Shortly after they completed their SAM registration, they decided to enroll into the Simplified Acquisition Program on the guidance and direction of Acquisition Specialist Peter Lanore. Since their enrollment date, DLP Enterprise has won 147 government contracts totaling $1,615,531. To say DLP Enterprise was successful utilizing the Simplified Acquisition Program would be a serious understatement. The majority of their awarded contracts was through the Department of the Navy and can be viewed at the Federal Procurement Data System (FPDS) or USASpending.gov. DLP Enterprise created such a lasting impact with the procurement officers in the Department of the Navy that they were able to establish a Blanket Purchase Agreement for future services with their department.
About DLP Enterprise
DLP Enterprise/Paige Decking has been in business for more than eight years and the owner has more than 30 years of experience in the industry. They are a small, woman owned business that strives to provide our customers with the utmost in quality and customer satisfaction by continuously raising their standard to a higher level. DLP Enterprise/Paige Decking provides our Military with quality decking that also improves their quality of life while living aboard the ships. They are also QP1 Certified by the SSPC (Society For Protective Coatings). This certification provides their customers living proof that deck covering removals, preparation of the deck surface for primer application and the application of primers are accomplished in strict accordance with SSPC, Federal, State, and NAVSEA requirements.
DLP Enterprise/Paige Decking has successfully aided industry manufacturers and the US Navy in the evaluation and development of many types of deck covering systems. They pride themselves on their ability to bring to the table innovative ideas, solutions and products that provide better service life and reduced maintenance.
Capabilities Statement for DLP Enterprise
DLP Enterprise /Paige Decking specializes in custom interior flooring design and installation on military ships in porcelain, vinyl tile, quarry tile, one-step terrazzo, electrical grade matting, ceramic, PRC, broadcast quartz, light-weight concrete, ammunition magnesite, decals, custom logos and carpeting. We also do surface preparation in accordance with SSPC-11 application of paints and primers. We are also QP1 Certified.
They service our US Military wherever they have ships. They have done work coast to coast in the continental US, Hawaii, Guam, Japan and the Bahamas.
DLP Enterprise /Paige Decking has completed more than 200,000 square feet of decking aboard the aircraft carrier USS Roosevelt. Under contract for approximately 150,000 square feet on board the USS Lincoln and 90,000 square feet on board the USS Eisenhower; both also aircraft carriers. DLP Enterprise has worked consecutively on 25 vessels.
DLP Enterprise's government-formatted website can be viewed at http://www.paigedeckinggov.com/.
DLP Enterprise Federal Registration Information
DUNS: 184182702
CAGE: 47XR0
Active in SAM; Registration valid until 03/12/2015
Woman Owned Small Business
Small Business
North American Industry Classification System (NAICS) codes:
238330 - Flooring Contractors
238340 - Tile and Terrazzo Contractors
314110 - Carpet and Rug Mills
336611 - Ship Building and Repairing
Prime vendors and procurement officers with interested in contacting DLP Enterprise with available contracting opportunities can call Denise Paige at (757) 420-5886 or email her at denise(at)paigedecking(dot)com.
Vendors can call Peter Lanore at (877) 252-2700 Ext 751 to discuss the Simplified Acquisition Program enrollment process, government marketing strategies or government registration. Businesses that wish to learn more about the program can visit SimplifiedAcquisitionProgram.org.