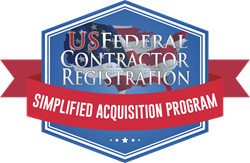 Washington D.C. (PRWEB) December 04, 2014
The Federal Government as of 12/3/2014 has 227 open Solicitations in Oklahoma where they are actively seeking small business vendors. The Federal Government awarded 88,012 contracts in Oklahoma for over 23.6 Billion dollars in 2014 alone. Please see the below available contract released by US Federal Contractor Registration, additional Oklahoma contracts can be found at https://www.uscontractorregistration.com.
US Federal Contractor Registration is reporting the release of a pre-solicitation for Environmental Booths installed at Tinker Air Force Base in Oklahoma posted to FedBizOpps (FBO) on December 3, 2014. The Environmental Booths pre-solicitation has a response date of December 12, 2014 for any vendors looking to respond. Every business interested in bidding on the Environmental Booths contract must be activity registered in System for Award Management(SAM). As well as have the North American Industry Classification System codes 334512 - Automatic Environmental Control Manufacturing for Residential, Commercial, and Appliance Use, and 334 - Computer and Electronic Product Manufacturing filed under their federal account. The Environmental Booths contract is a Total Small Business contract, which only allows businesses under the SBA Small Business Size Standard eligible to bid.
Below is the Environmental Booths pre-solicitation as posted to FedBizOpps (FBO), and a consolidated version of the Draft Statement of Work (SOW):
Solicitation Number: FA8126-15-Q-0010
Agency: Department of the Air Force
Office: Air Force Materiel Command
Location: Tinker AFB - AFSC/PZIO
Tinker Aerospace Complex (TAC) requires two environmental booths to provide adequate cleaning and FOD control for paint and composite part surface preparation. The system will require the contractor to design, fabricate, install, test and conduct training for the Tinker personnel. The purpose of this Statement Of Work (SOW) is to establish the engineering, technical, and logistics support required to provide the subject two Environmental Surface Preparation Booths services. The Booths are for coverage of the Composite Shop area. The booths shall be installed inside building 9001.
The Environmental Booths shall provide support for the B-1B, B-2, B-52, E-3, and KC-135 weapon systems at the OC-ALC. The booths will be used for sanding and pre-paint preparation of aircraft components. No painting or chemical removal of paint will be done in the booths. The Contractor shall provide all personnel, equipment, supplies, facilities, transportation, tools, materials, supervision and other items (e.g. Personal Protective Equipment (PPE)) necessary to perform the requirements of this SOW and contract as defined in this Statement of Work (SOW). The Contractor shall provide and use only new parts and material unless authorized by the Contracting Officer (CO).
The Advanced Composites Manufacturing area of Building 9001 shall require multiple Environmental Booths. The systems shall require the contractor to provide a turnkey system to include but not limited to design, fabricate, install, test, and conduct training for Tinker personnel. The contractor shall provide two (surface preparation) booths. The booths shall be of a cross draft type design. The internal clear area measurements of the booths shall be 23 ft. wide by 14 ft. high by 31 ft. long on the West booth, and 17 ft. wide by 14 ft. high by 31 ft. long on the East booth. Equipment installations that are expected to exceed 20 feet in height shall be coordinated with the Government. The booths shall include connections to the shop breathing air system capable of supporting four (4) people working in conjunction.
Business owners can contact Contracting Officer and primary POC on the Environmental Booths pre-solicitation Tammy P. Davis at (405) 739-9117 or by email at tammy.davis.7(at)us.af.mil.
Vendors interested in learning how to bid on available contracts and becoming eligible for government contracts can call US Federal Contractor Registration Acquisition Specialist Justin Jones at (877) 252-2700 Ext 757. Businesses looking to effectively market their business and promote their services directly to government buyers can enroll in the Simplified Acquisition Program. A free Federal Marketplace Evaluation will be conducted for every business looking to enroll in the program in the month of December 2014. Businesses can learn more about the program and simplified acquisition contracts by visiting http://www.simplifiedacquisitionprogram.org/